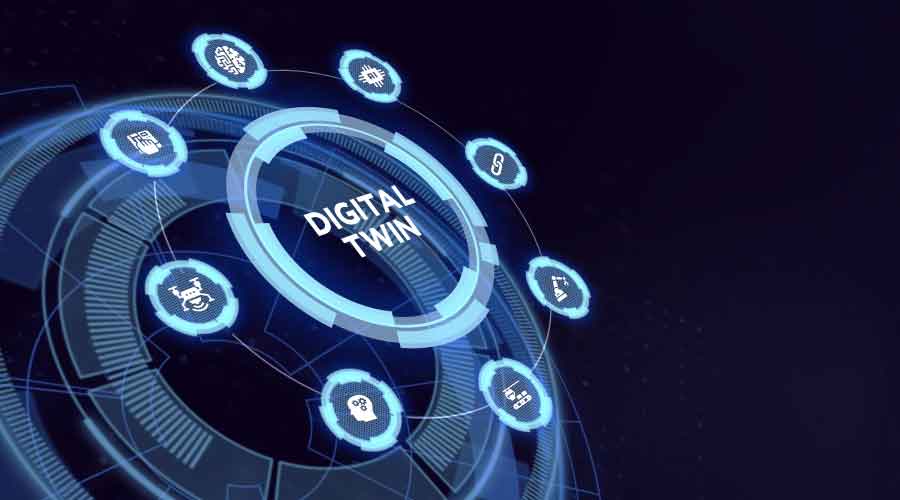 Approach can revolutionize the way facility managers can evaluate building performance.
Buildings account for 40 percent of the world's energy consumption, and according to the Environmental Protection Agency, 30 percent of the energy consumed within a building is wasted through inefficiency. There has been an iterative approach to how various agencies have been trying to promote improvement in the building space but there has been a leap forward in recent years that is streamlining the process of how facility managers and building owners interact with their institutional and commercial facilities.
Over the last few decades buildings have been converting their systems to digital and becoming increasingly intelligent. However, the interaction between the digital building systems and the day-to-day operations has lagged advancements in technology. Building owners and facility managers will often spend millions of dollars installing complex building controls systems, energy efficient mechanical, HVAC, electrical, and plumbing systems, then expect everything to just work. Unfortunately, this expectation of functionality without oversight and support does not meet expectation or provide the promised returns. Managers struggle to maintain systems that break down or start to deviate from ideal operating conditions. Controls vendors provide minimal and expensive support, and as a result energy spend climbs, comfort related complaints increase, and operations budgets get cut.
Retro-commissioning recommendations
As a way of combatting this result, numerous bodies recommend regular retro-commissioning events or energy audits. This systematic approach is incredibly valuable to identify buildings that aren't operating as they should, provides clear direction on how to rectify those issues, and quantifies the financial return for performing those measures. The challenge with these valuable studies is that, according to a study of 100 projects, 50 percent of implemented measures revert back to a failed state within eight years. The resultant failure is why government agencies recommend retro-commissioning on a four-year cycle to ensure that measures continue to provide value and the building continues operating in a more optimal way.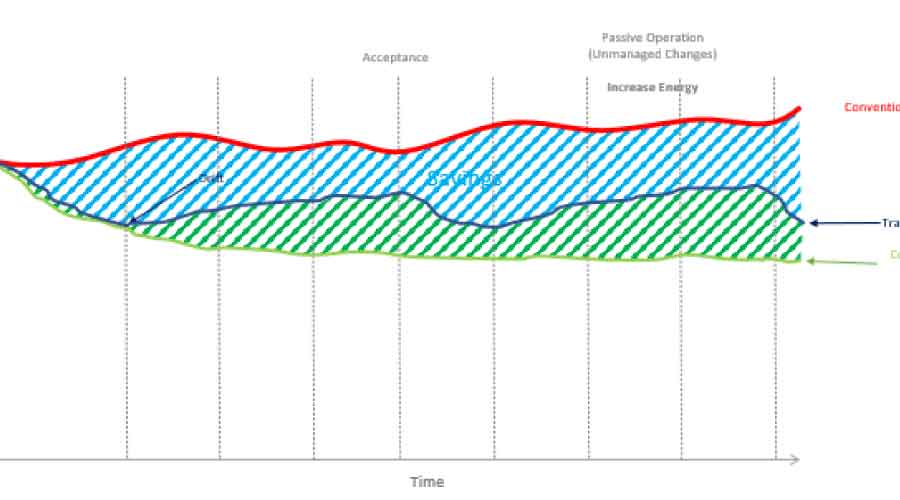 This approach of auditing and commissioning, implementing measures, then coming back to repeat the process every four years results in the peak and valley energy consumption shown in the image above. Additionally, building operations are mildly disrupted by a team of engineers assessing building systems every four years. These challenges are why the industry is shifting toward utilizing a monitoring-based approach to commissioning. LEED even provides a credit for implementing monitoring-based commissioning. However, this approach is only truly successful if combined with an automated fault detection and diagnostic system. These automated systems continuously trend building Internet of Things devices to identify, in real-time, when systems are operating inefficiently and outside of optimal parameters. By providing actionable insight through these platforms, we are able to create a retro-commissioning-like process that occurs every 15 minutes and the actions can be immediately implemented by facilities operators.
Work orders from more sophisticated systems will identify the issue, provide recommendations, and quantify the energy savings that will result from rectifying the issue. It is also critically important that this approach is provided by an independent consultant who isn't associated with the building automation system. Many control suppliers offer this service, but this results in a condition where the fox is guarding the hen house and many issues are hidden or completely ignored. These platforms can also help automate compliance reporting for metrics like greenhouse gas emissions, energy use intensity, cost and area, daily operational costs, and other client-driven KPIs.
Digital Twins approach
The latest and rapidly developing approach to improving building operations is the transition to Digital Twins. A Digital Twin is a 3D digital representation of a real-world asset. Digital Twins are commonplace in the manufacturing and automotive industry, but more recently have begun to popularize in the real estate and construction industries. The approach in applying the practice of digital twins to buildings is to provide dimensional clarity of information to allow immediate response and holistic understanding. That is, by understanding where the issue is, what the issue is, and how it impacts other systems, we can more rapidly impact how quickly interrelation issues get identified and resolved. Digital Twins help building owners and facility managers with their aggressive environmental goals by identifying areas of waste energy, how to improve them, and where they are occurring, while also providing operational data such as testing and balancing reports or operations and maintenance manuals to speed up the process of troubleshooting issues.
To give an example of what and how, the image below shows NV5's digital twin of a 1,000-room casino resort with over 10,000 data points. A 3D model is developed either by building scanning (the process of Scan-to-BIM) or through design documentation and ingested into the digital twin platform. The data from the building management system (BMS) and other IoT systems are then tagged to individual 3D assets, and this is presented in an online platform for use by facility managers and owners. Managers can easily identify the issues occurring within the building, click on the asset to see what it is currently doing through live sensor data, see what interaction the failed system is having with other systems, and then pull up digital copies of asset data.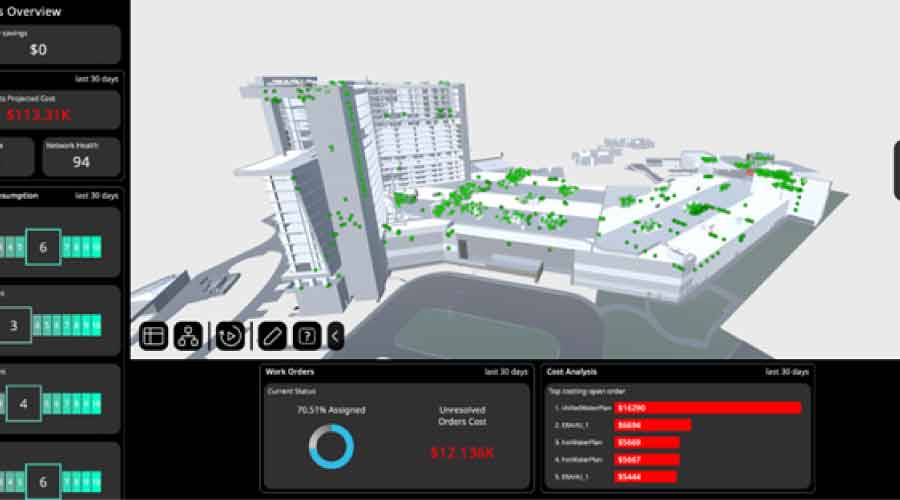 A recent example from one of our projects identified an air-handling system that was operating continuously at full speed while downstream components were satisfied, which resulted in excessive fan energy being used. Our solution identified the issue and notified the facility operator, who was then able to see that the issue occurring at the unit and how it was impacting 12 downstream systems. Our solution then determined the cost, it had totaled over $2,000 in additional energy costs to-date, and informed the facility of a potential solution. Historical testing and balancing reports, linked to the 3D asset, were utilized to show how the units should operate based on operating conditions. What would previously have taken technicians days of effort, if it was identified at all, was shortened to a workflow that took less than half-an-hour from start to finish. A digital twin can help revolutionize how building operators and owners interact with their buildings to continuously optimize their building, reduce costs and improve margins, and make spaces healthier and more comfortable for building occupants.
By Daniel Kolimar, Contributing Writer
Daniel Kolimar, is an Executive Director with NV5. He can be reached at [email protected]. NV5 manages project controls, administration, and representation for its clients and assists in the planning, funding, designing, and the construction process of public and private projects, from single buildings like hotels and hospitals to multi-facility resorts and campuses, as well as large-scale public works projects. 
The post "Digital Twins Advancements can help Improve Facility Operations" appeared first on Building Operating & Management