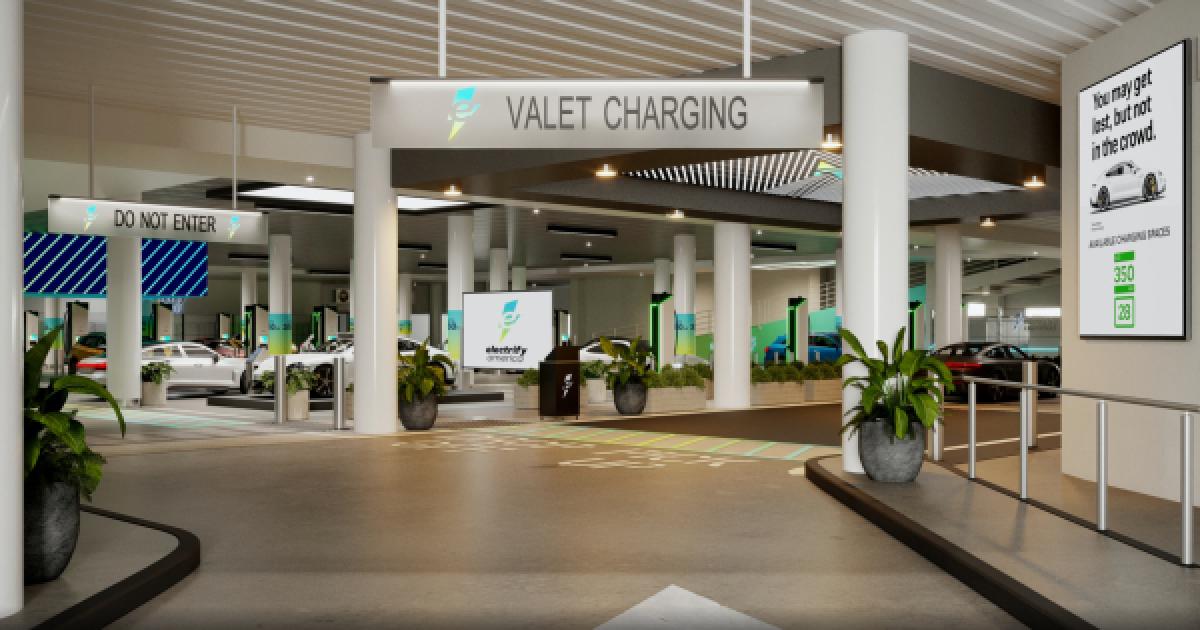 I've been looking in envy at Europe and the United Kingdom lately at a fast-growing trend emerging across the electric vehicle (EV) charging space: charging hubs. Here are a few examples of what I mean:
Sortimo Innovation Park in Zusmarshausen, Germany — Currently has 70 active charging points, including 12 Tesla Superchargers. When fully completed, it will be able to charge 4,000 EVs daily with charging speeds of 35 kW to 280-plus kW depending on the station.
Fastned Redbridge Park & Ride in Oxford, England — Currently has 42 active charging points, with the projected capacity totaling 400 vehicles charged at once. Fastned has deployed 10 300-kW charging stations, Wenea has deployed 20 7-22-kW charging stations and Tesla has deployed 12 250-kW stations at the location.
Gridserve's Electric Forecourt in Norwich, England — Currently has 36 active charging points, including eight Tesla Superchargers and 22 public stations at 350-kW charging speeds.
All of these charging hubs include the option to eat, shop or relax while a driver's car is charging. Additionally, these locations typically have onsite battery storage to help with demand charges and varying solar arrays. The charging hubs also have futuristic designs with modern architecture, making the experience of charging unique and encompassing.
While the EV industry is still maturing, it has come a long way from the early days. However, EV charging is still compared to the gas station experience, namely due to the speed of "refueling." Naysayers point to the need for replicating that model so drivers who are on the fence about EVs finally take the leap.
If we are in a moment of change and transformation, why should we strive to copy a model from over 100 years ago? Gas stations are not anything beautiful to copy — they are smelly, polluting and we are lucky that it only takes a few minutes to fill up your tank because I would lose my mind standing at a gas station for longer than necessary. In my opinion, their design pushes you away instead of inviting you to stay.
I firmly believe that we've subconsciously trained ourselves to expect fast "refueling" at gas stations in order to "accept" or cope with the overall experience of "refueling." But what if the experience of "refueling" was enjoyable, offered you something to look forward to and didn't push you away — then maybe waiting a little longer to "refuel" wouldn't be an issue? In my opinion, the EV charging experience is superior to that of a gas station and once that mental shift happens for a driver, the relatively longer "refueling" experience of fast-charging your car for 15-30 minutes at a public Direct Current (DC) fast-charging location instead of filling your tank for 2-3 minutes is no longer an issue.
Sure, it would be nice to have faster charging speeds. But I don't think we need it if we shape the experience of "refueling" to be enjoyable. In the end, it is all about the experience and how enjoyable it is for the consumer.
So when Electrify America, one of the leading public DC fast-charging providers in North America, announced in March that it would start building "human-centered" EV charging hubs across the U.S., you bet it made me happy. The renderings are beautiful and invite you to stay instead of pushing you away.
"Hub"-style charging deployments across North America aren't entirely new. Some of Electrify America's charging locations, such as the one in Baker, California, have 19 charging points ranging from 50-350 kW and 1 CHAdeMO plug at 50 kW. Tesla has also been building charging hub-style locations, with 56 charging points active in one location at Firebaugh, California, and a 100-charging-point location coming to the Mojave Desert between Los Angeles and Las Vegas. Tesla is also working on a drive-in-style dining and charging experience in California; however it's unclear when it will officially launch.
Recently, bp pulse, formerly Amply Power, announced its plans to build Gigahub, a network of charging hubs for the ride-hail fleet industry. When asked about the importance of this hub-style design, bp pulse's president Vic Shao said, "Creating the Gigahub network for the ride-hail economy is critical for EV adoption because it is a clear case of how we must develop unique solutions for different charging needs."
However, what Electrify America plans to do with its charging hubs seems to lean more into adding the crucial "experience" factor into charging. I caught up with Anthony Lambkin, senior director of operations at Electrify America, to get a status update on when we can expect the first charging hubs to come online and how, if at all, this move toward hubs changes the company's focus. "We're very much approaching this [charging hubs] on a pilot basis because we still have many other parts of the country where we're still building out along major highway routes, regional routes and 120 different metro areas across the country," Lambkin said. "We want to be able to keep building that network … and also build in a couple of these flagship premier locations."
Lambkin only shared the upcoming six locations that Electrify America plans to deploy. Four charging hubs will be across California, starting with San Francisco coming online in the second quarter of 2023, followed by Santa Barbara, Beverly Hills and San Diego later in the year. The company is also planning to deploy two charging hubs in New York City, one in Brooklyn and another in Manhattan, in 2024.
The San Francisco location is officially finishing up construction and will be completed by the end of the year. Lambkin shared that this location will be entirely inside a warehouse. (An added advantage of EV charging compared to gas stations: no polluting gasoline equals being able to "refuel" indoors instead of being outside in the cold.) While the company has roughly 3,500 chargers today, it plans to grow to 10,000 by 2026, and these pilot locations will play a part in that growth.
While Electrify America has a separate arm, Electrify Commercial, entirely devoted to fleet charging needs, it would seem to make sense for Electrify America to explore designating a certain percentage of parking spots at its hubs for ridesharing drivers. "We haven't made the decision yet to dedicate any charging [to ridesharing or other fleets], Lambkin said. "But I wouldn't rule anything out right now."
What excites me is that we are entering a new era of EV charging. This new desire to build charging hubs showcases continued industry maturity. I find it incredibly exciting that amid a "refueling" transformation, the industry is choosing to offer consumers a better experience to "refuel" their vehicle than what has been the norm for more than a century — smelly, unappealing gas stations that push you away instead of inviting you to stay.
The post "EV charging hubs: Why the experience matters" appeared first on Green Biz