Rob Durr can be forgiven for having a high opinion of the Toronto Blue Jays' new player development complex in Dunedin, Florida.
"It's the coolest thing in the world," says Durr, director of facilities for the team's Florida operations. Durr joined the Blue Jays in December 2019 as the organization was in the middle of building the new complex. Construction broke ground in April 2019, and the building was completed in March 2021.
Finishing construction on the complex, along with renovating the team's Florida baseball stadium, delivered state-of-the-art technology and facilities designed to support the development of a winning baseball team. But the projects did not come without challenges for Durr and his department, and their success relied on management skills and experiences he brought with him to the organization.
The path to FM
As with so many people who wind up in facilities management, Durr did not start his career there.
"Before I was in actual facilities, I worked for a construction company," he says. "I worked typically with the facility management teams because I was running most of the punch out on our construction projects. We did several schools, and then I was the guy left behind when the new projects were started because I was fixing everything."
Durr made a career change around 2010 when he joined the maintenance department at an airport as a maintenance specialist.
"The airport that I worked for was really good at identifying emerging leaders or people who had the desire to move into leadership," he says. "They basically put me through various leadership training. They put me through some project management classes. Eventually, I worked from a maintenance specialist into a maintenance lead position and then into a maintenance supervisor position."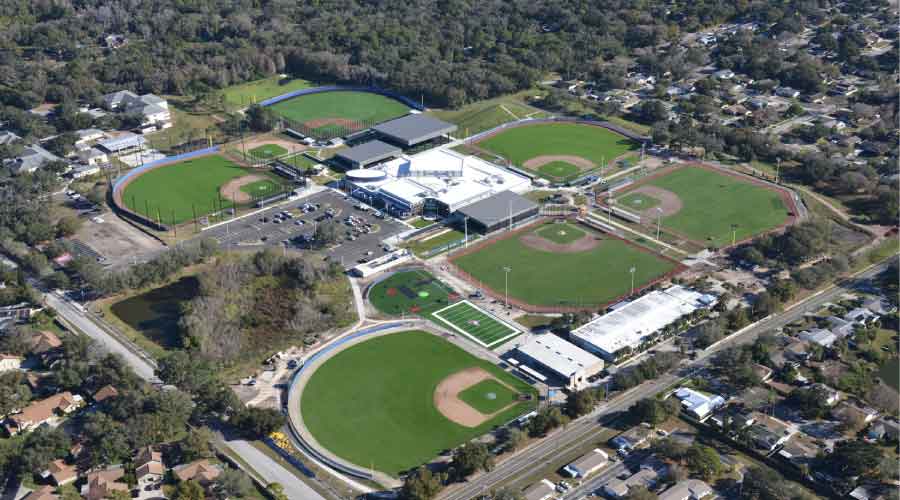 The opportunity to grow in the facilities profession prompted Durr to pursue training that would help him move further into management.
"I went after my facility management professional credential, and that is when my career truly began to accelerate," he says. "That's also when I made the shift from the airport to the Blue Jays."
Durr's arrival with the Blue Jays in 2019 gave him the kind of opportunity he had been seeking.
"I wanted to be more involved in facilities," he says. "I wanted my own sets of responsibilities, and this job was everything that I was looking for in my next step as a leader – designing my maintenance team, implementing my preventive maintenance structures, developing my entire budget, baselining off an old building to a new building. Those were the true next steps I wanted to take."
Complex facilities
The Blue Jays spring training facilities in Dunedin are a bit different than other teams' arrangements for spring training facilities, and the range of its operations and equipment create complex challenges for Durr and his staff. The first notable feature is the size of the player development center.
"The building itself is about 115,000 square feet," Durr says. "When we upgraded, our former building was about 30,000 square feet, so we're almost four times larger than our previous spring training facility."
Then there are the locations of the complex and the actual stadium, TD Ballpark.
"We have two separate facilities in Florida," he says. "Unlike most spring training facilities where they have the training complex and the stadium typically on one site, ours are a couple of miles apart.
"Our stadium was completely renovated while we were building the complex. We commissioned the stadium, and then about a year later, we commissioned the complex. Outside of everything happening with our complex, we're also managing all the maintenance of a fully functional baseball stadium."
Durr describes the player development center as "a world-class facility to help provide a competitive edge to athletes and to help them perform the best they can."
The facilities' array of spaces and activities is designed to support the mission of the team's player development staff.
"Our player development complex sits on about 60 acres," Durr says. "We have six fields, two covered batting cages, two sets of gang mounds or bullpens, whatever you prefer to call it. We have a 150-by-150 covered agility field that actually has a full half field built underneath it, and we have another noncovered agility field."
The complex also features a 12-foot by 50-foot in-ground lap pool, a two-floor weight room with 22,539 square feet and a 3,300-square-foot fully functional commercial kitchen and two dining rooms.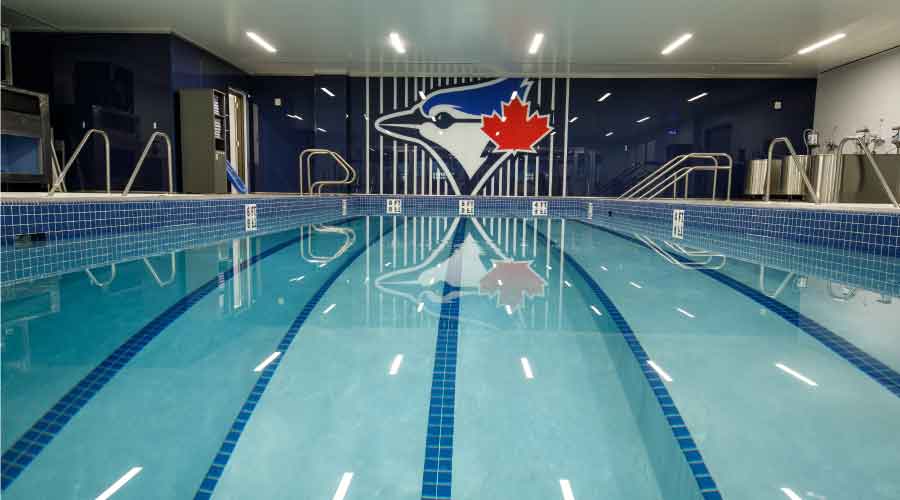 Beyond areas focusing on health, fitness, nutrition and rehabilitation, the complex features areas dedicated to developing specific baseball skills.
"We have several sports science-focused rooms," Durr says. "We have a room designated as an indoor pitching lab with a tremendous amount of technology. We also have two sports science wings on the east and west side of the gym."
Changes and challenges
While the finished player development center is living up to expectations, its construction presented Durr with challenges that arose in part because the process began before Durr joined the organization.
"It all happened before me," he says. "That's the unfortunate part of it because from a facility standpoint, I believe there's some things that could have been done a lot better. I was brought on after the project started and basically worked with an in-house project manager to help see it through the construction. We worked through basically every aspect of the construction, working with the contract management team on all the construction planning meetings, timelines and construction. Then toward the end of the project, our in-house project manager left, so I basically had to work with the finalization of the punch list."
Turnover among the crews working on the project was a theme of the construction phase.
"The biggest unexpected challenge during construction was consistent leadership from our construction teams," he says. "One of our prime contractors had three project managers or three project supervisors that came through.
"From facility maintenance or management perspective, consistent changes in the leadership really hindered items that were happening on the ground. Different leaders have different philosophies, and they manage people differently. You have historical knowledge that was lost between the turnovers, and that was consistent with our project engineers. That happened with our construction management teams and on-site supervisors. We had multiples of those come and go, and the different trade contractors had multiple supervisors at different periods."
The changes created challenges for the project's schedule.
"The problems were related to items that were missed because you had somebody who tried to come in and pick up the pieces of another person, and then they were basically turning it over to another person a couple months after that. That led to a lengthy punchout session to the point that we were still addressing punch list items and final building commissioning 12 months after the building was actually opened."
While Durr says the player development facility has performed "incredibly well" based on the organization's needs, the finished facility has run into some issues.
"If you were to commission a building and expect 100 percent of it to work properly, I'd say about 70-75 percent of the items worked properly," Durr says. "Then we spent the next 12 months fine-tuning the other items that didn't function as expected."
Building an operation
As if one major project was not enough, construction of the Blue Jays' player development center was not the only development project Durr undertook upon joining the organization. He also needed to build his department.
"I don't come from the baseball industry," Durr says. "I came from the aviation industry, so I worked in the facilities department in an airport. I've seen completely opposite ends of the spectrum when it comes to a maintenance team.
"When I arrived in Florida, there was no maintenance department down here. When I was planning out everything for this, I wanted to build our own teams because then you provide that level of ownership that you get with in-house technicians."
Hiring in-house expertise was a crucial component of the department Durr was building.
"When we started designing our maintenance department, my first task was to justify an in-house HVAC technician," he says. "I'm not a huge fan of contracting, so we have one in-house HVAC tech."
The team also includes an electrician and two maintenance technicians who do a little bit of everything.
"I also have one facility manager that helps with responsibilities at the complex. Then at the stadium, we have two people that are a mix between maintenance technicians and operations technicians. They're about 50 percent gameday responsibilities and about 50 percent maintenance and repair."
The ability to create his team from scratch enabled Durr to tailor the staff to the complexities of the facility.
"It was important to be able to completely analyze a building's mechanical structure, all the different unique items that we have — the pools, the hydro rooms, the kitchens — and being able to put together an all-inclusive staffing plan," he says. "We also did our own job descriptions. We worked with HR on our recruiting. We designed out every aspect of what these in-house technicians were doing. We did asset inventories, and we built the frequencies. Then we built the PMs. We implemented all of that, built the structure and the planning around our day-to-day maintenance activities."
Durr says he knows the opportunity to build a new facility and a new department to maintain and operate it is rare.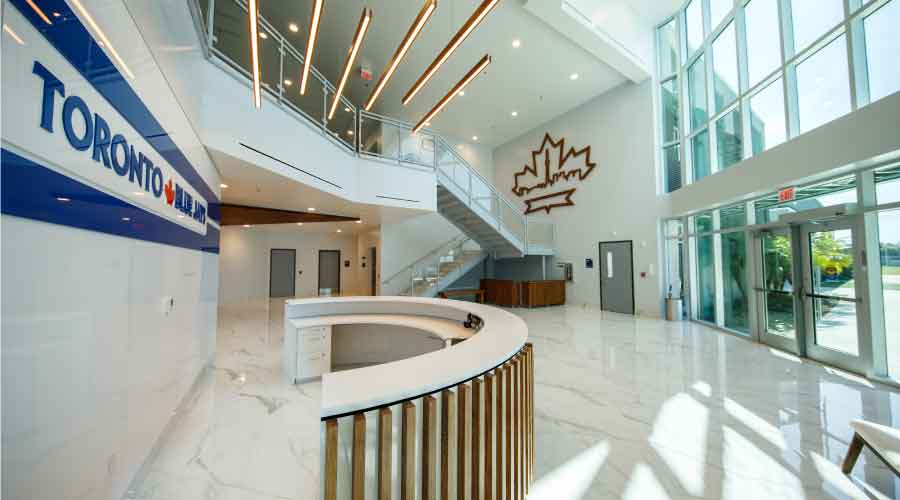 "It was unique to get to do it from the ground up," he says. "With a lot of facility management, unless you're opening a new building, a lot of people hire into an existing building. This was a completely different perspective of anything that I've ever got to deal with.
"I believe it was fantastically successful, being able to design all of that out from the ground up and all the different aspects of what we as a maintenance team will do and how everybody interacts and works together. The building is around two years old, and if you walked in, you would still think you're walking into a brand new facility."
What lies ahead
Despite the workload involved in constructing the player development center, renovating the baseball stadium and creating a department to maintain and operate the facilities, the work for Durr and his staff is not finished.
"Since we completed the building a few years ago, we instantly turned around and redid two of the fields," he says. "As soon as those were finished, we started to design and build on a state-of-the-art hitting lab.
And when that project finished, Durr and his team immediately went to work on another.
"We started to design and build on one of our sets of gang mounds. We decided to take the 10 pack and cover it and put in throw walls on the inside. It's a 100-foot by 100-foot covered structure retrofit with technology so that we can have 10 pitchers throwing at the same time and be in a more comfortable environment than our wonderful Florida heat."
Beyond the on-field improvements, Durr says the facilities will go through improvements behind the scenes, including several at the request of Major League Baseball and Minor League Baseball.
"Over the next year, we'll be designing and building a home clubhouse female locker room and eventually a visiting clubhouse female locker room," Durr says. "There are more and more females in the sports industry, and we want to make sure we're providing comparable facilities, proper facilities for them, as well.
Facilities continually evolve in these ways to meet the needs of organizations and communities, and as they do, the challenges for maintenance and engineering managers also evolve. When it comes to Durr and the Blue Jays, those needs involve both developing athletes and sports teams and achieving organization goals related to energy efficiency, sustainability and reliability. For these reasons, the challenges of maintenance and engineering management are not likely to get easier anytime soon.
By Dan Hounsell, Senior Editor
Dan Hounsell is senior editor of the facility market. He has 30 years of experience writing about facilities maintenance, engineering and management. 
---
---
---
Related Topics:
The post "FM Builds Spring Training Facility, Maintenance Team" appeared first on Building Operating & Management