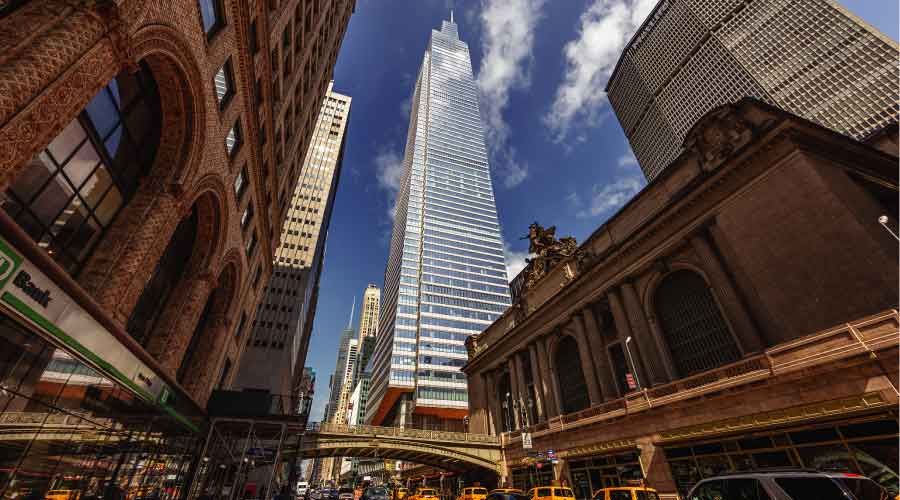 When the pandemic struck, a New York City skyscraper was prepared for the challenge of keeping occupants healthy
One of the tallest skyscrapers, as part of one of the world's most iconic skylines, opened for business during the COVID-19 pandemic with a high level of uncertainty surrounding what comes next.
When One Vanderbilt, the second-tallest office tower in New York City, unlocked its doors in East Midtown Manhattan in September 2020, it was during a stage of the pandemic when many employees were working from home as questions persisted about when they would return to the office.
Two years later, employees are finding their way back to the office. Kastle Systems' Back to Work Barometer indicates a 41.2 percent occupancy rate in New York City office buildings, under the national average of 43.8 percent in an assessment of 10 U.S. cities.
As employees return to the office, concerns exist about the air quality in institutional and commercial buildings. A Honeywell Healthy Buildings Survey recently revealed that 65 percent of employees would leave their job if employers didn't create healthier indoor environments, and 55 percent want to be informed of the air quality in their workplace.
Considering those numbers, it's no surprise that One Vanderbilt's owner and tenant, SL Green Realty Corp., was prepared to present a healthy building to tenants and employees whenever they were ready to return to the office.
Combating COVID
One Vanderbilt stands out in the majestic New York City skyline. At a height of 1,401 feet and 77 stories, the commercial tower is home to a number of international finance and law and real estate firms and an 11,000 square foot restaurant, among other amenities. The base of the building houses the center of a transit hall that provides access to city subway stations at Grand Central Terminal.
SL Green manages more commercial office square footage in New York City than any other firm. It kept its properties up and running throughout the pandemic, so the motivation was clear to open the building as soon as possible.
"As an essential business, it was important to maintain our buildings to our typical best-in-class standard for our tenants that were onsite each day," says Edward Piccinich, chief operating officer. "Throughout the low-occupancy periods, we had our staff onsite to ensure all back of house mechanical systems were performing."
When the pandemic struck in March 2020, SL Green was prepared to confront the challenge posed by the pandemic.
"At the start of the pandemic, we swiftly formed an internal task force to monitor the latest guidance and identify enhancements to our already best-in-class procedures," Piccinich says. "As part of our diligence, we evaluated dozens of indoor air quality options and deployed the most impactful and scientifically proven. Across our portfolio, we increased MERV filters (from MERV 13 to MERV 15 and 16), adjusted outdoor air circulation, distributed HEPA filters, and more."
In addition to the IAQ improvements, SL Green also installed infrared thermal scanning systems at building entry points so that employees could take temperature checks to ensure they are healthy enough to work in the office.
"Our goal is to have the tenants feel like they have a safe and healthy work environment to come back to work," says Ray Benemerito, One Vanderbilt's vice president and general manager. "As the health guidelines disappear, it is important to demonstrate to the tenants that we still employ a minimum standard IAQ utilizing thermal scanners, increased MERV and HEPA filters, additional air changes, bipolar ionization, and standalone air purifiers in common areas."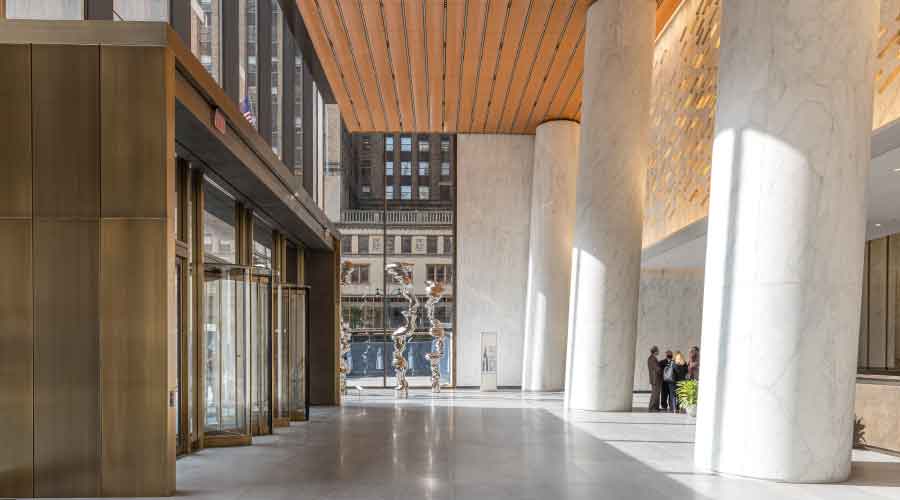 SL Green further enhanced the air quality inside the building with the installation of a PlasmaAir bipolar ionization system from WellAir that enabled positive and negative oxygen to be dispersed into the supply air. The system seeks out viruses and bacteria to effectively neutralize them.
"We added baseline bipolar ionization to HVAC systems serving common areas of the building," says Jonathan Wilcox, One Vanderbilt's director of engineering. "Even more, we added local portable air filtration to the high-traffic areas of the same common areas."
Making significant changes to the building's HVAC system on short notice was an easy process for Wilcox's team when the pandemic set in.
"Adjusting on the fly with efficient communication was not an issue," he says. "If any issues could be noted, it would be around supply chain delays for hardware or replacement filters."
Wilcox says the building's massive size – 1.7 million square feet – was an advantage for his staff to tackle the IAQ issue.
"While One Vanderbilt is very large, the split of fresh air zones in the building and local floor HVAC for the majority of the building allows it to act as multiple smaller buildings in some ways," he says. "A smaller building would likely run into higher costs per unit, as they are likely purchasing less year over year, as well as possibly lower priority due to suppliers giving preference to larger orders in some instances."
Continued comfort
When occupants started returning to the office, SL Green worked to reassure tenants that their employees were returning to safe surroundings, whether in a full-time or hybrid capacity.
"Tenant communication was our primary objective – to let the occupants know of our adherence to local and governmental guidelines," Benemerito says. "We achieved this not only with email notices and signage, but also direct contact with tenant coordinators."
The standards established during the pandemic will continue beyond the COVID era.
"We're going to maintain the permanent standards built into the building related to MERV 16 filter minimum and common areas with bipolar ionization," Wilcox says. "And we're educating tenants on the safety of our systems and high level of standards used. We're also being transparent on water and HVAC testing results as seen in recent WELL performance certification, and we'll continue to be open to emerging technologies on the subject and implementing as needed."
SL Green's efforts resulted in One Vanderbilt becoming the first WELL Core Certified Platinum project in New York City, a carrot that can help attract future tenants to the building.
"Adding WELL certification and all related transparency, we look forward to promoting how advanced and clean the air and related IAQ parameters are in the building," Wilcox says.
Lessons learned
Facility managers are always learning on the job, and the COVID experience was no exception.
"We have advanced our baseline knowledge, understanding, and responsibility around the pandemic," Wilcox says. "We've added a level of performance as the standard and additional technologies in the common and high traffic areas."
The learning process also extends to the continuing need to educate tenants and employees on improvements being made to assure One Vanderbilt is a safe working environment. Benemerito says the education process was one of building leaders' top priorities during the pandemic, and will continue as a goal moving forward as tenants and employees become more knowledgeable on the dealing with future pandemics.
"The average building occupant needs a mix of visual changes and administrative to buy into the notion that any improvements have actually been made, like seeing the supplemental filters in person in high-traffic areas, as well as being able to see the technical reports from WELL performance verification, from the engineering team requesting access for visually showing filter types used and tenants being able to see how often we are changing said filters," Wilcox says.
Another takeaway from the pandemic experience is that managers must always anticipate the unexpected.
"We have better awareness that no system or industry is on auto-pilot and at any time we may need to be agile in focusing resources to advancing one area of how a building is operated," Wilcox says. "This could be full scale engineered technologies, advanced training for staff, or added layers of data monitoring, frequency and testing to allow faster response to new types of issues or concerns."
By Dave Lubach, Managing Editor
Dave Lubach is managing editor for the facilities market. He has seven years of experience covering facilities management and maintenance. 
The post "How One Vanderbilt Raised IAQ Standards" appeared first on Building Operating & Management