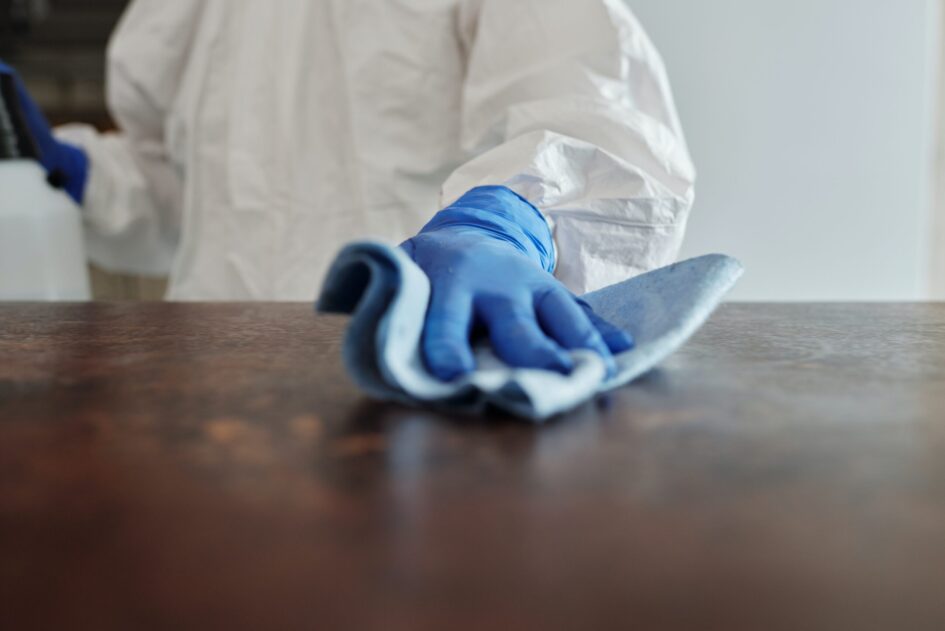 In a recent study conducted by the Associated Press and the National Opinion Research Centre, less than half of Americans are still wearing masks. Similar conditions can be found across Canada. After two years of pandemic-related restrictions, the public craves a return to normalcy.
That craving was more than evident when this summer's Canadian National Exhibition (CNE) in Toronto opened with no COVID-19 restrictions for the first time in two years, and saw over one million attendees in only two weeks. In response to relaxed government regulations and changing public trends, facilities that host large events like the CNE have returned to pre-pandemic protocols.
Despite public optimism, the fact remains that as we move through fall and look ahead to winter, cold and flu season will once again be upon us, and with it the potential for an eighth wave of COVID 19.
With that in mind, now is time to re-evaluate cleaning protocols and ensure we are prepared. Many industries like aviation, school boards, and long-term care facilities continue to employ pandemic-centric enhanced cleaning, but as we shift into the colder seasons, it is critical to double-down on cleaning protocols in all facilities to reduce the spread of colds, flu, and flu-like illnesses.
Lessons learned
Keeping up with enhanced cleaning protocols for more than two years hasn't been easy. What made matters worse was that, in many circumstances, facilities didn't have pandemic cleaning contingency plans including a robust cleaning process, having ample product at hand, and regular employee training.
Pre-planning for emergency situations such as a pandemic is important, especially for large facilities that see thousands of people on a regular basis. During the first few months of the pandemic, the cleaning industry faced a shortage of products like hand sanitizer and surface disinfectants, making it difficult for facilities who did not have ample pre-purchased product to implement enhanced cleaning protocols.
Supply was not the only challenge facilities faced. Enhanced cleaning programs required increased use of surface disinfectants when employees often had not been trained in the safe and effective use of these new products. For example, spraying chemicals into the air rather than into microfibre cloths.
When cleaning solutions and disinfectants are used improperly, volatile organic compounds (VOCs) are released into the air, not only as a result of spraying but through a process called "off-gassing". Breathing in the chemicals can result in both short-term and chronic effects. Short-term exposure to low levels of VOCs may lead to headaches, nausea, and dizziness, while prolonged exposure can be associated with serious disease and central nervous system damage.
Lack of training and clear, well-defined cleaning protocols can result in air quality issues that put cleaning teams and building occupants at risk. It may also put the facility at risk because bacteria and pathogens may not be fully eliminated.
A four-step approach
While we cannot predict emergency situations and what they may entail, we can create contingency and preparedness plans to effectively deal with situations like a pandemic to keep workers, visitors, and facilities safe:
Create an enhanced cleaning protocol: To ensure the ability to quickly pivot in response to an emergency, develop a specific, enhanced cleaning process that can be immediately deployed.
Provide employee training: Training sessions on how to use new products and equipment should also be included as part of an emergency cleaning program. Providing workers with products they are unfamiliar with is dangerous to their health and safety and usually results in less effective cleaning and wasted product. Provide step-by-step instructions during training and post procedure sheets for employees to refer to when emergency protocols are implemented.
Order ample and correct product: Keep sufficient quantities of all critical products on hand in your facility. Ensure that products specified in the emergency cleaning plan do not interact with each other in ways that may result in adverse health effects.
Invest in air purification technology: Air purification is an important element of a robust cleaning program, as indoor air is susceptible to pollution by bacteria, pathogens, and VOCs. Invest in an air purification system that includes an effective filtration system, fits the size of the space, and refreshes the air at an appropriate interval according to the number of people expected to occupy specific areas.
As we continue to face new environmental cleaning challenges, including new virus variants and a possible eighth wave, it is important to continue to maintain enhanced cleaning processes that not only keep workers and the public safe, but also ensure the safety, health, and cleanliness of your facility.
David L. Smith is the Cleaning, Hygiene & Sanitation Director at Bunzl Cleaning & Hygiene, Canada's largest specialist distributor of cleaning and hygiene products and equipment. For more information or to book a comprehensive Facility Assessment please contact [email protected]
The post How to ensure pandemic levels of prevention remain appeared first on REMINET.