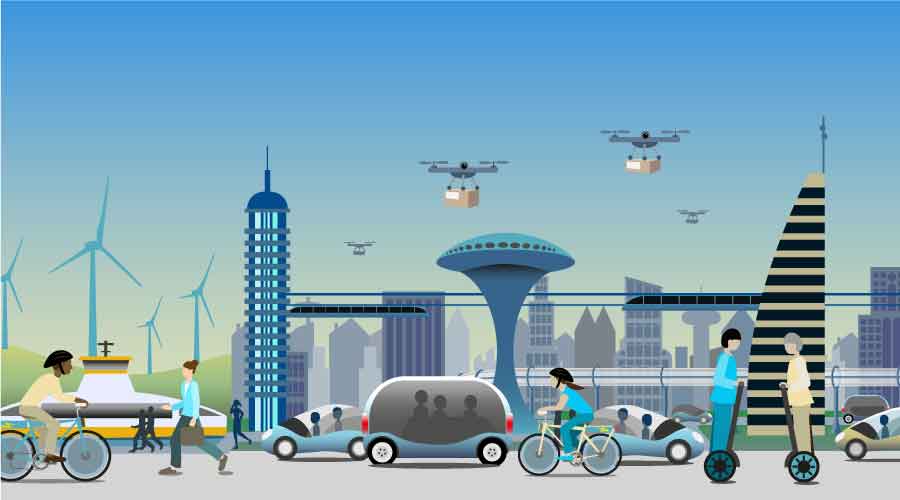 Decarbonizing buildings means more than just replacing old boilers with new heat pumps. Here's what facility managers need to know about electrifying buildings.
When it comes solving the climate crisis, there is no silver bullet. A solution requires an all-hands on deck mentality, and building electrification is one the many increasingly important strategies the buildings industry is deploying to do its part to mitigate climate change.
Building electrification means replacing any equipment — usually heating — in a facility that uses natural gas with equipment that only uses electricity, like heat pumps. The end game is to dramatically reduce greenhouse gas emissions by replacing greenhouse gas emissions produced from natural gas with clean, renewably produced electricity from solar, wind and other alternative sources. As the grid increasingly transitions to an ever-higher percentage of renewable energy, that's exactly what'll happen. For this reason, building electrification is also known as building decarbonization.
But it won't happen overnight. According to the U.S. Energy Information Administration, the grid will decrease 26 percent in carbon intensity between 2020 and 2050. That means now's the time to prepare your buildings for clean, carbon-free electricity.
FacilitiesNet recently talked with Andrew Lehrer, a building electrification expert with consulting firm ESD. Lehrer answered questions about the value to facilities of building electrification, as well as why it's also important to focus now on onsite renewables.
FacilitiesNet: Why should commercial facility managers consider building electrification as an energy efficiency and sustainability strategy? 
Lehrer: With utility sources such as wind and photovoltaic reaching cost parity with coal and natural gas the grid profile is becoming more renewable each year. Utilizing electricity in lieu of natural gas will position a facility to reduce its Scope 1 emissions (on-site operational carbon footprint) over time.
Driven, in part, by market pressure for electrification there have been recent advances in heat pump technology allowing buildings in colder climates to leverage the refrigeration cycle to more efficiently heat their facilities, resulting in efficiencies 1.5 to 3 times that of electric resistance heat. However, it is important to understand that heat pump technology is not a "drop in" replacement for gas-fired heat. Currently designers need to provide more space for the equipment and additional site electrical capacity for the heat pumps and back up heat.
FacilitiesNet: How and why should building electrification strategies be a part of an organization's overall emissions reductions and climate plan? 
Lehrer: Buildings are still one of the largest contributors to carbon emissions. With the increase in corporate climate pledges, market differentiation is critical to attracting top talent and tenants and retaining them at your facility. Modifications to SEC reporting guidelines that were released in March 2022 have mandated that publicly traded companies report their Scope 1 and 2 emissions on a phased schedule over the next several years. As the next generation of employees occupies the landscape, they are demanding additional transparency and firm commitments to their employer's climate strategies. Building electrification is an important part of achieving those goals.
FacilitiesNet: In addition to heat pumps, which have gotten the lion's share of the press, what other important strategies should facility managers consider? 
Lehrer: Air-source heat pump technology has rapidly advanced in the last decade, particularly part load and extreme cold weather performance. It is still incredibly important to limit site energy consumption, particularly infiltration in cold climates. A high performing envelope, mitigating stack effect, and well controlled ventilation strategies are incredibly important. Strategies like Retro and Monitoring-based Commissioning ensure your facility is operating as intended, and the costs of these efforts are often offset with local utility incentives.
Institutional and other large-scale users that require elevated energy capacities for their sites may find that the grid is unable to support a fully-electric utility option for their facility. Given the challenges of storing and transporting hydrogen, onsite hydrogen generation is an exciting area of development that may allow these users to decarbonize. However, this technology is still in early days and is not yet effectively scaled to a point where it is feasible for most users.
I expect geothermal utilization to increase in the coming decades. Geothermal technology is making progress. While historically hampered by capital and space-related challenges, new geothermal solutions utilize proprietary technology to significantly increase the thermal output per deep borewell. Coupled with advances in heat pump technology, which is able to produce hotter process fluid temperatures, geothermal is also becoming a more suitable for retrofit applications.
FacilitiesNet: As facility managers are successful with building electrification, why is it also important to layer in renewable energy strategies? 
Lehrer: The market for renewables has reached an interesting inflection point. The recent progress of photovoltaics has been truly impressive, with the installed cost per Watt having decreased by an order of magnitude over the past 20 years. Given available state and federal programs that incentivize increasing renewable energy on our grids, facility managers should absolutely consider renewables. However, onsite renewables are still costly, even with available incentives, and may offer limited energy production opportunities for dense urban sites.
As an alternate approach, we often propose a Virtual Power Purchase Agreement (VPPA) or focused investments in local renewable utility sites as a means of obtaining renewable energy at scale. But given the challenges of deploying onsite renewables discussed above, we've seen demand for VPPA's spike and are seeing the associated increases in costs. Utilizing onsite renewables, where feasible given site location and limitations, will not only reduce operational expenses and grid energy demands, it will increase renewable energy adoption, drive down costs, and support a healthy market that more effectively balances the supply and demand of our energy needs.
Andrew Lehrer PE, LEED AP is Practice Leader, High Performance Buildings at ESD . Lehrer focuses on life sciences, major real estate asset repositioning/adaptive reuse, corporate headquarters, and high-rise markets. He is a licensed Professional Engineer in Illinois and California, an Executive Board Member of ACE Mentor Chicago, and a long-time member of ASHRAE.  
By Greg Zimmerman, Senior Contributing Editor
Greg Zimmerman is senior contributor editor for the facility group, which including FacilitiesNet.com and Building Operating Management magazine. He has more than 18 years' experience writing about facility issues. 
The post "The Future is Building Electrification" appeared first on Building Operating & Management