For a long time, facility management was a predominantly reactive practice. Major decisions, processes, and activities occurred after the fact. For instance, maintenance would happen reactively, or FMs would take action to remedy situations or improve processes only after they observed a problem in the facility. Doing things this way left too much room for inefficiencies.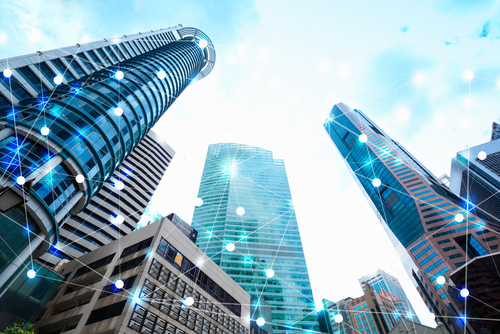 That said, multiple causative factors led to these situations—for one thing, the information available for making key decisions about buildings decades ago was either inadequate or inaccurate. However, with recent innovations in technology, it doesn't have to be that way anymore. A number of new innovations provide actionable information that makes it possible for FMs to gain insights, analyze trends, and rely on accurately presented leading indicators.
Below, we consider three of these innovations—smart sensors, cloud technology, and data analytics—and then discuss specific roles that each one plays in facility management today.
Smart Sensors
They are designed to monitor different parameters, from temperature to pressure, humidity, and much more. For facility management, smart sensors can be applied in the following ways:
Maintenance Management 
Smart sensor technology has effectively revolutionized maintenance management. Maintenance teams are no longer limited to using time-based repair and replacement schedules—whether those repairs were necessary or not.
Instead, by installing smart sensors on critical installations, they can adopt condition-based maintenance, a unique equipment maintenance technique that empowers facility managers with real-time information about the condition of those assets. The objective is to detect the potential failure and notify the maintenance team on time to avoid asset failure. This exchange of data from the sensors, combined with an enabled CMMS, can be configured to trigger equipment maintenance requests and prompt intervention well in advance—to avoid asset breakdown.
Control Systems
Another area of applicability where smart sensors are becoming increasingly relevant for FM is their role in optimizing building user experience.
Traditionally, at the close of work in large office buildings, a member of the maintenance team had to physically move around all the spaces in the building, switching off lights, HVAC units, and other fixtures. These days, sensors have become an integral part of building control systems that empower facility managers to monitor, track, and adjust everything in their buildings—from temperature to humidity and CO2 levels—thereby ensuring a comfortable working environment.
On the other hand, occupancy sensors can be used for space planning and management by showing which rooms are available and feeding that information into automated booking systems. This role is particularly important for scheduling and allocating workspaces and other resources in these times of increasingly remote and flexible work.
Cloud Technology
The on-demand nature of cloud-hosted services, and the benefits it offers, makes cloud technology an ideal resource in facility management. Some uses include:
SaaS FM Software
The advent of cloud-based technology enables most FM software providers to offer their services as cloud-based SaaS solutions that can be deployed relatively quickly. This allows FMs to access their CMMS and other software—like computer-aided facility management (CAFM)—from any location.
The ability to access the features of cloud-based FM software from smartphones and other mobile devices offers significant leverage in facility management today. Essentially, facility managers can communicate seamlessly with their team members, coordinate them, then assign, track, and monitor the progress of work from start to finish.
Remote Monitoring
As we continue to tackle the evolving landscape of post-pandemic work, facility managers can't afford to ignore the benefits of cloud-based remote monitoring technologies.
There are numerous applications of this technology. A few of them include the following:
Maintenance teams can carry out remote visual high-definition inspections of high-risk infrastructure such as power installations, public utilities, oil and gas facilities, etc.
From anywhere they are, FMs can receive alerts that help them monitor the running condition of critical assets, manage access control, and detect any anomalies in real-time.
Integration with Building Automation Systems (BAS) to track and control indoor climate,  energy consumption, lighting, fire alarms/emergency systems, etc.
Data Analytics
Data analytics has become a recurring phrase in every industry today. It's not hard to see why—its sheer ability to improve the decision-making process is phenomenal.
For facility management, data analytics is about identifying and extracting trends, patterns, and insights generated within the facility. Facility teams can use the information gleaned through analytics to improve visibility, make data-backed decisions, and plan strategic initiatives.
FM data analytics can be classified into four subsets, namely:
Descriptive: highlighting a particular trend
Diagnostic: exposing the drivers behind a trend
Predictive: forecasting new trends
Prescriptive: influencing new trends
For the purpose of this post, let's focus on descriptive analytics. FMs can use data analytics for:
Proactive Planning
The process starts with descriptive analytics. Facility managers frequently use historical trends in data. Essentially, descriptive analytics helps to answer the question, "What happened up to this point?"; typical areas where descriptive analytics play key roles are equipment history, budgeting, and asset performance. Diagnosing the cause of problems in the past leads to proactive facilities management—allowing FMs to improve their OPEX or CAPEX planning, then set improvement goals, and measure them.
Sustaining Operational Excellence
Data analytics allows FMs to crunch different types of data and quickly pinpoint areas of inefficiency and waste. The possibilities are almost endless. Among other things, the information that data analytics reveals could help to identify KPIs, confirm known inefficiencies, or expose hidden ones. Whatever the case, data analytics set the stage for better tracking of facility management.
For instance, FMs can see where vital resources are being wasted or underutilized—e.g., through the workforce, workflow, labor inefficiencies, etc. Thus, they can see where the bottlenecks are and understand how to remove them.
Let's look at a relatable example. If a facility has been experiencing challenges with its supply chain, data visualization can empower the management with easily understood insights into the entire process, from end to end, and enable them to pinpoint where along the process the bottlenecks exist. With this information, FMs can confidently apply corrections where necessary.
In Conclusion
Change is constant, and although the practice of facility management has improved tremendously over the years, FM professionals can still expect even more technological innovations like the ones discussed above. However, the key to successfully adopting innovations is to understand how to adopt them, and then clarify the benefits for each facility. There's no one-size-fits-all approach to doing this.
Bryan Christiansen is the founder and CEO of Limble CMMS. Limble is a modern, easy-to-use mobile CMMS software that takes the stress and chaos out of maintenance by helping managers organize, automate, and streamline their maintenance operations.
The post The Role of Smart Sensors, Cloud Tech, and Data Analytics in Facility Management appeared first on Facilities Management Advisor.