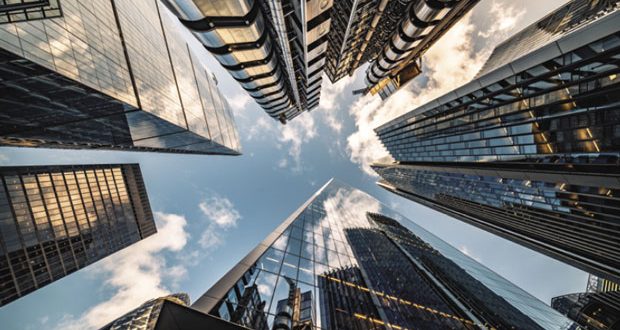 The UK Green Building Council (UKGBC) has put together a team of cross-industry experts who will support its mission to accelerate action on commercial retrofit.
The energy required to heat, power and operate commercial buildings accounts for nearly a quarter of the built environment's carbon footprint in the UK. Securing a net zero built environment in line with the Paris Agreement cannot be achieved without addressing the operational emissions associated with this sector, says the UKGBC, meaning it is essential that the UK property sector accelerates the delivery of commercial retrofit programmes.
In addition to the climate impact of commercial buildings, the UKGBC adds that accelerating the pace of commercial retrofit will also be required to meet the growing demand for sustainable office space. Recent analysis from UKGBC member JLL has revealed that real estate assets with stronger sustainability credentials are increasingly attracting higher capital values and rents. The research indicates that office buildings that are more sustainable are likely to drive greater interest from occupiers on account of the reduced operating and energy costs. Furthermore, JLL note the forthcoming tightening of Minimum Energy Efficiency Standards (MEES) means investors are likely to consider more sustainable buildings to be less risky, and that it will pay to be on the front foot and invest in the green building sector now. 
Given the scale of energy efficiency improvements required to secure a net zero built environment, and the financial value it can unlock for asset owners, UKGBC is embarking on a new project to deepen understanding of the carbon and cost effectiveness of different retrofit measures for commercial assets. It will explore how to overcome common challenges faced by industry, as well as expand on UKGBC's recent guide 'Delivering Net Zero: Key considerations for Commercial Retrofit', clarifying how to set out retrofit strategies for different asset types and providing more detail on tangible measures.  
To support this project, which forms part of UKGBC's Advancing Net Zero Programme, the organisation has mobilised a team of 30+ experts from across the industry, ranging from developers, investors to cost consultants. The new Task Group will support UKGBC in exploring common retrofit measures that offer different types of office properties a pathway to achieving net zero carbon. They will do this through assessing real world case studies in the UK, understanding where retrofit measures have been effective and where lessons have been learnt. The findings of this study are expected to be published in Summer 2023. 
UKGBC's Head of Climate Action, Yetunde Abdul said: "Improving the energy efficiency of our commercial buildings has the potential to deliver significant carbon savings across the built environment, and with demand for sustainable office space surging in the UK, this is an opportunity we can't afford to waste. Collaboration across this sector is key to accelerating the pace of action towards our common climate goals. That is precisely why UKGBC has assembled a team representing the breadth of the built environment to assist us on this timely and important piece of work."
Task Group individuals supporting this project include:  
Georgia Hilling, Cost Consultant, 

Arcadis

 

 

Phil Clark, Partner – Office Sector Lead for Cost Management, 

Arcadis

 

Michael Wadsworth, Senior Mechanical Engineer,

 Arup

 

 

Paul Warrick, Director – Sustainability & Projects, 

Assura

 

 

Joel Coakeley, Sustainability manager, 

BAM

 

Peter Fisher, Director, 

Bennett Associates

 

 

Dan Coston, Partner, 

Bidwells

 

Richard Kaye, Director, 

BNP Paribas Real Estate

 

 

Alex Edwards, Sustainability Director, 

Bruntwood

 

Etienne Humphries, Head of Building Performance, 

Bruntwood

 

David Hodge, Director – M&E and Sustainability, 

Canary Wharf Group

 

 

Lisa Ithurralde, Sustainability Manager, 

Capco

 

 

Tom Attree, Director of Sustainability and Technology

, Capco

 

 

Matthew Hart, CEO,

 CarbonShift

 

Owen Connick, Strategic Leader – Building Sustainability, 

Carrier

 

Antonette Easwaranathan, Senior Consultant,

 CBRE

 

Davion Cheng, Associate Director, Energy Engineering lead,

 CBRE

 

Simon Bennett, Associate Director,

 Civic Engineers

 

 

Michelle Wang, Sustainability Manager,

 Deloitte

 

Ben Cross, 

General Projects

 

 

Victoria Herring, Director, Sustainability Programme

, Grosvenor

 

 

John Pirouet, Associate Director, 

Hoare Lea

 

Matthew Daniel, Associate, 

Hoare Lea

 

Imogen Christodoulou, Senior Associate

, Hoare Lea

 

Mike Linehan, Divisional Director – Low Carbon Retrofit, 

ISG

 

 

Niall Robertson, Director, Building Consultancy, 

JLL 

 

Daniel Coakley, Sustainability Manager,

 Lloyds Banking Group

 

Chinyelu Oranefo, Director, ESG & Finance,

 Lloyds Banking Group

 

Kieran Crowe, Director Net Zero Buildings, 

Low Carbon Alliance

 

 

Chris Newman, Zero Carbon Design Manager,

 Mitsubishi Electric

 

Bahareh Salehi, Building Physics Engineer, 

Mott Macdonald

 

 

Alexandros Chalkias, Associate Director – Sustainable Design, 

Savills Earth

 

Brian O'Malley, Modernisation Leader, Digital Energy, 

Schneider Electric

 

 

Bettina Brehler, Director, 

Squire & Partners

 

 

Domenico Gabriele, Director of Capital Projects, 

The Crown Estate

 

 

David Shaw, Director, 

Torridon

 

 

Chris Joyce, Technical Decarbonisation Consultant, 

Turner & Townsend

 

 

Jack Millard, Associate, 

Twin Earth

 

 

Dave Worthington, Managing Director, 

Verco

 

 

2023 FMJ and Grundon Recycling and Waste Management Survey
FMJ in conjunction with Grundon Waste Management is pleased to launch the 2023 waste management and recycling survey which examines the ways in which FMs approach their waste management responsibilities.
In this, the sixth year for the annual appraisal, we know there is a greater opportunity than ever for FMs to reappraise their waste and recycling operations and help their organisations meet the growing pressure to achieve ESG goals.
We want to learn how FMs have adapted to the legislative, economic and societal changes of the past year and how they plan to meet the latest waste and recycling targets.
In this survey we've posed a series of questions which include insights into FMs' waste management strategy and targets, how they're moving towards zero waste targets, and the importance of not just meeting compliance targets but also ESG goals.
The results of the 2023 survey will be published in FMJ magazine and form the basis of a white paper co-written by FMJ and the experts at Grundon on how to approach waste and recycling strategies.
To take part click here.
The post UKGBC assembles Task Group to accelerate commercial retrofit appeared first on FMJ.