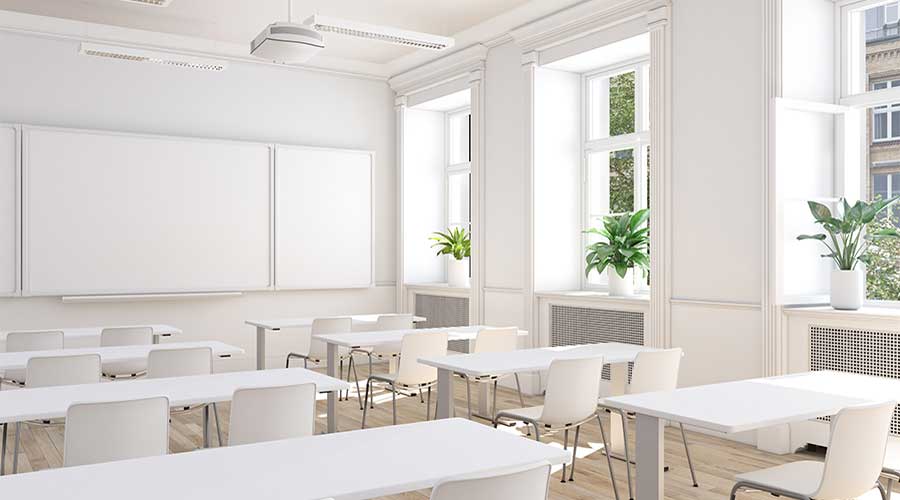 A recent case study shows how one university in Florida took steps to improve the indoor air quality and promote the health and wellness of students and staff.
In July 2020, as Florida Polytechnic University undertook a project to begin navigating these uncharted waters, facility managers there began focus on a new important concept for them: health and wellness.. These were clearly uncertain times, as the university was rightfully concerned, trying to decide the safest way to bring back not only students but facility and staff. However, amid those most concerned regarding the students were their parents.
During the first meetings, a two-phased approach was discussed. Phase 1 would be a campuswide building assessment using the newly developed WELL Health & Safety Rating, as well as newly developed environmental and air quality criteria from ASHRAE, CDC, and more.
This new WELL Health and Safety Rating protocol has eight basic tenants. The team decided to focus on the first three.
Promote Clean Contact
Improve Air Quality
Maintain Water Quality
Manage Risk and Create Organization Resilience
Support Movement and Comfort, Including Working from Home
Strengthen Immune System
Foster Mental Resilience
Support Community Resilience and Recovery
Phase 2 of the approach was to implement modifications, based on the Phase 1 assessment, which included a retrocommissioning process. With the genesis of a plan on how to get students back safely to the university hatched, the next step was implementation.
The assessment in Phase 1 showed that in general the facilities department was doing an excellent job when compared with the WELL protocols. In terms of promoting cleaning contact, the facilities team had all the primary bases covered such as touchless faucets, water closets/urinals, soap dispensers, etc.
Indoor air quality was also very good. Facilities staff were doing an excellent job on the buildings already maintaining good operational humidity control, good filtration, and general maintenance overall. All the test readings for temperature, humidity, carbon dioxide, volatile organic compounds, and particulate matter were well within acceptable ranges. The air quality analysis incorporated looking at the filtration from its effectiveness of containing/removing the COVID-19 virus particles. The National institute of Standards and Technology (NIST) software called "Fate of Transport of Indoor Microbiological Aerosols (FaTIMA)" was used. This simulation program indicated that MERV-13 air filters should be the minimum rating needed. ASHRAE also supported this assertion. The surprising conclusion from these simulations was that under current operating conditions, the virus will remain airborne for more than an hour after an infected person leaves the room. But by increasing the filtration from MERV 13 To MERV 15, the airborne concentrations are eliminated 20 percent faster, and 33 percent faster if a 500 cfm HEPA air filter was added to the space. Additionally, the facilities initial design of displacement ventilation had positive effects on reducing the virus spreading. This occurred because displacement ventilation brings air thru the breathing zone once in lieu of traditional overhead recirculation systems.
The final area of focus, maintaining water quality, was also found to be good. Domestic hot water stored at 140F, which is good legionella prevention protocol, and there was good overall maintenance of systems.
Upgrades Planned
While the assessment showed that things were going well, it also generated recommendations for actionable strategies to improve. For example, a method of reducing transmission is placing restroom trash cans near the exit since now people are holding the door open with paper towels. Other ideas included removing restroom doors, using antimicrobial soap, and adding sanitizing stations in strategic locations such as laboratories where multiple students were utilizing tools.
As well, during the retrocommissioning process that followed the assessment, it was determined that temperature sensors required some recalibration and some needed to be replaced. Control sequences needed to be tweaked a bit, as well. The process also determined that all of the air flow measuring stations were not providing the air quantity as indicated on the building management system, a problem that was a high priority to fix. Additionally, the team recalibrated all the facilities' variable air volume boxes.
It's important to remember that a healthy building goes beyond just having clean air, it also includes access to clean water, plenty of natural sunlight, views of the natural environment, and thermal comfort. Bringing the natural environment into the building is known as biophilic design and has been proven to be extremely beneficial for the occupants. Biophilic design has even been studied in the classroom setting resulting in higher test scores, lower blood pressure, improved short-term memory and increased positive emotions.
By Al LaPera, Contributing Writer
Al LaPera, EMP, CxA, LEED AP, is a senior associate with TLC Engineering Solutions. He is also a board member of the Energy Management Association (EMA) and Trainer for the AABC Commissioning Group (ACG). 
The post "How to Create a Healthy Learning Environment" appeared first on Building Operating & Management