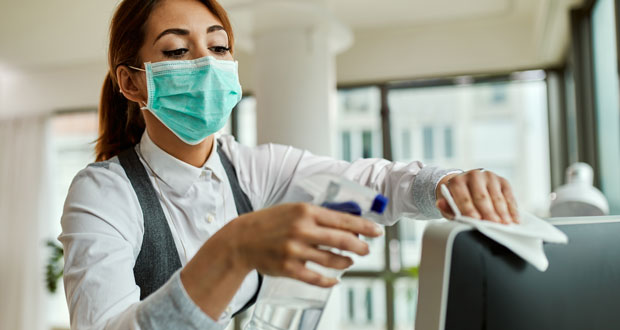 While some of the more stringent cleaning routines have dissipated gradually in recent months, many changes implemented during the pandemic have remained.
"People used to have fairly basic expectations of cleaning such as 'has my bin been emptied or has the soap been refilled?'," says Peter Whyte, Divisional Director of Soft Services at JLL company, Integral. "Now, however, enhanced cleaning regimes play a vital role in workforce confidence."
As a result, once the Cinderella of facilities maintenance, janitorial services are moving from a largely after-hours affair to a more nine to five model.
"With health and wellbeing top of mind, employees want the reassurance of seeing high-touch surfaces cleaned throughout the day," says Whyte.
There are sustainability benefits, too. Delivering more cleaning activity during normal working hours means firms avoid having to power up the lights in largely empty buildings. As hybrid working evolves, cleaning is now upping its game by adopting smart technology and the Internet of Things (IoT).
"It's no longer logical or economical to maintain fixed cleaning regimes, given the way occupancy is fluctuating," Whyte says.
Paper checklists are rapidly being replaced by data-driven dynamic cleaning powered by sensors, dashboards and dongles that do everything from gauge customer satisfaction sentiment to measuring air quality and identifying desk use. These always-on data points mean cleaning services can be driven by real-time usage, rather than pre-set schedules.
"The data even helps identify trends that inform future office design, such as if your six-person meeting rooms are most often only occupied by two people," says Whyte.
While cleaning robots may once have seemed far-fetched, you may soon be sharing a lift with one, according to Whyte, who'll be trialling a vacuum bot able to use elevators to travel between different floors. JLL's Future of Work Survey found that 51 per cent of organisations plan to start using industrial robots for cleaning, maintenance or security by 2025, as they become ever more sophisticated thanks to AI.
HIGHER STANDARDS
A drive towards recognised training and accreditations is another result of shifting attitudes. Organisations such as the British Institute of Cleaning Science (BICSc) and ISSA are aiming to ensure global consistency in levels of cleaning across the sector. And with smart phone apps paving the way, dispersed cleaning operatives now have better access than ever before to ongoing communications, training and updates.
Manufacturers and service providers are responding with eco-friendly products that are petro-chemical free, non-toxic and come in recycled and recyclable packaging.
"We also avoid battery or electric powered air fresheners and unnecessary site deliveries. Even the way we procure cleaning goods and services has been overhauled," explains Whyte. "Our aim is to source from a more diverse supply chain that encompasses female, minority or LGBTQ owned businesses."
In previous recessions, cleaning has proved an easy target for cutbacks, yet Whyte hopes this time around the sector may prove more resilient.
"More than ever, organisations are aware of the critical contribution workplace cleaning makes to efficiency, sustainability and most importantly, workplace health and wellbeing."
Peter Whyte, Divisional Director of Soft Services at JLL company, Integral explains how office cleaning has adapted to changed workplace demands, while hygiene experts from The Cheeky Panda, NECS and Mechline Developments advise on getting through flu season
The post Hygienic practices appeared first on FMJ.