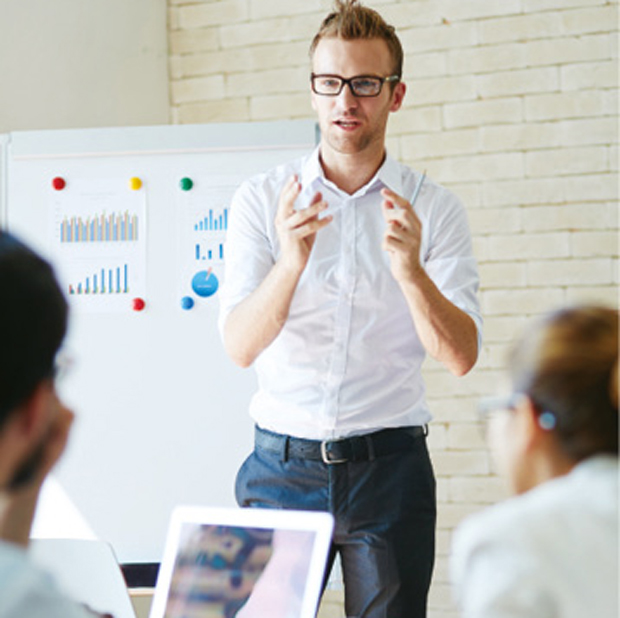 Classroom, virtual or blended training? Dale Wardill, Client Manager, International Workplace on the results of a survey on the effects of COVID-19 on training strategy and how L&D has changed in response
The pandemic has altered many things in our working lives, not least our working patterns. In the past two years there has been a generational shift towards working from remote locations, meaning business practices have had to change in order to keep up.
This is also true of training. In the last 24 months, International Workplace has seen a huge shift towards online training, both prompted and forced by COVID-19. Clients who had previously eschewed eLearning and distance learning in favour of bums on seats in traditional classrooms were now finding themselves pivoting to virtual classroom training, in which learners gathered on Microsoft Teams to interact with a tutor before being assigned self-led eLearning at home.
Now, in late 2022, with the worst of the pandemic arguably behind us, people are starting to tentatively speak of returning to 'business as usual'. But what does that actually mean?
We took a snapshot of some of the organisations we partner with to get their thoughts on how their training strategies have changed, the benefits and disadvantages that have resulted from that change, and how they see the direction of their Learning and Development shifting in the future.
How has your approach to training your staff shifted in the past two years?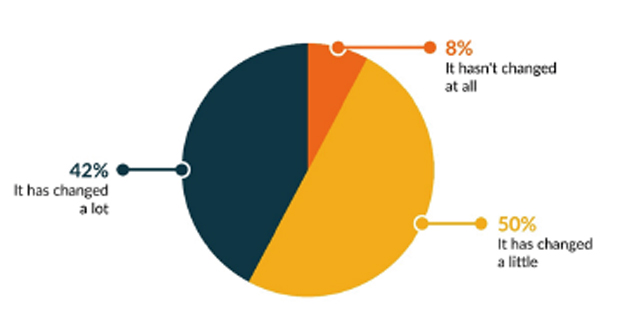 It came as no surprise that the majority of organisations surveyed said their training strategies had changed, even if just a bit. Most people mentioned they had moved towards more online training, and the need to "digitalise to move forward". One respondent said that a major factor in their decision-making was to balance "delivery formats such that we can be cost effective, support our net zero emissions initiative and assure that our training delivery / offering is effective".
In terms of how this change has been received by staff, only eight per cent of respondents desired a complete revert to classroom training, with the majority (50 per cent) saying it depended on the type of training, and 42 per cent interested in maintaining a hybrid approach.
Have you seen advantages or disadvantages from shifting training to virtual/hybrid? Or both?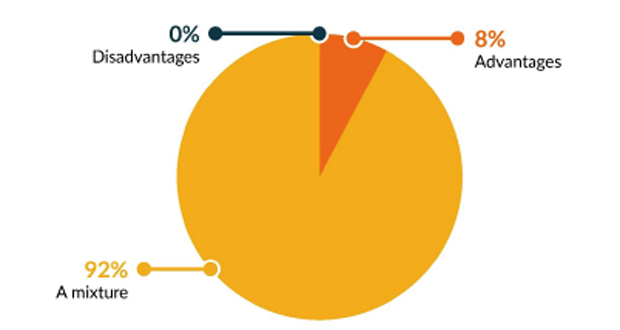 It was interesting to see that nobody felt there were just disadvantages to a virtual or hybrid approach – whilst very few (eight per cent) only saw advantages. One respondent mentioned there had been "an impact on the social impact of learning events" whilst others focused on the time and cost savings, the fact that training online was often quicker, and the fact that more people can attend virtual training.
Do you think the effects of the pandemic have had a beneficial effect on training? Or has training suffered as a result?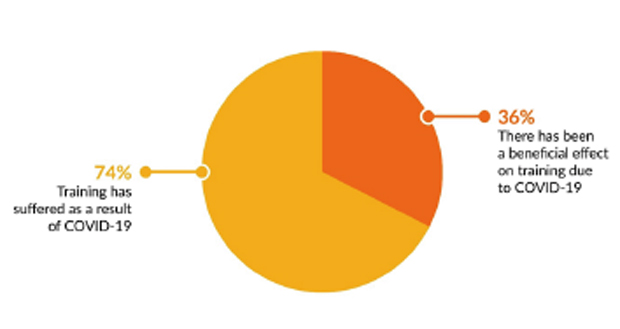 When asked if there had been a beneficial effect on training, or if training had suffered as a result of the pandemic, the results were much more mixed.
Some respondents mentioned that various training had to be delayed (such as evac chair and first aid training, which is not so easy to carry out online), and that staff are too busy with day-to-day work to be able to spend the time undertaking virtual learning. However, other respondents mentioned the pandemic had "accelerated our need to digitalise training," but conceded that "face-to-face still has a place to ensure engagement and collaboration".
How do you think your approach to training will change in the next two to three years?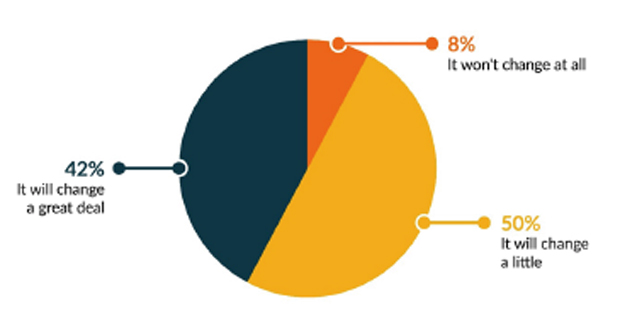 We asked how respondents thought their approach to training would change in the next two to three years and were unsurprised to see the majority are preparing for a further shift. One mentioned "a more dynamic, just in time delivery based on business roles and management" whilst another saw the need to move to "an online LMS platform with more training available online, also looking at the potential introduction of VR to support our training needs". Another concluded, "we definitely want a blended approach that has a positive impact on staff".
As with remote working, it appears that the shift to virtual training has benefited many people, who are more able to fit continuous learning in to their working schedules. But it is certain that one size does not fit all, and now that employees are more able to get back into a classroom environment, there is still a place for traditional learning.
The post Training trends appeared first on FMJ.