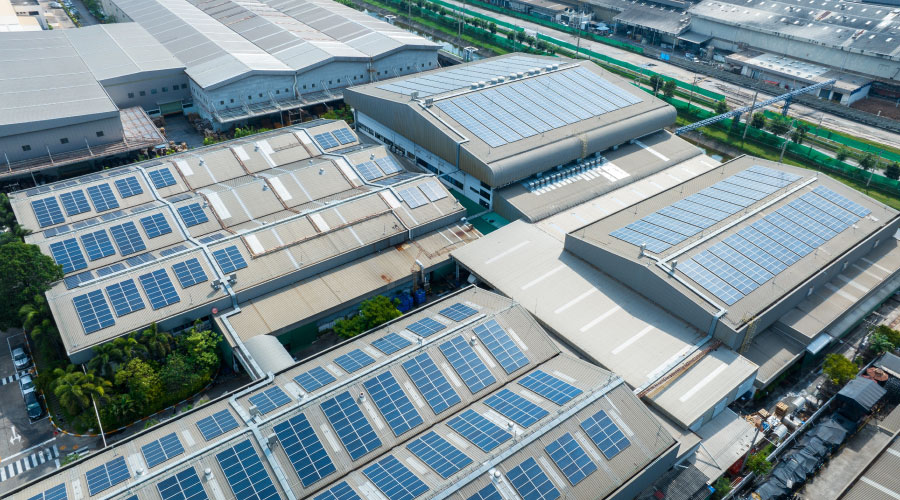 Facility managers should keep these considerations in mind when installing onsite solar on commercial buildings.
Like any business decision, it is important to evaluate the overall risk and reward of adding solar. Of course, commercial property owners will consider how the cost to install, insure, and maintain solar panels compares to the energy savings and tax incentives for green energy. However, they should also evaluate the increased risks – including fire, wind, and hail.
Aside from fire, roof mounted solar panels are more susceptible to physical damage and catastrophic loss when located in areas with elevated risk of hurricanes, tornadoes, hailstorms, and earthquakes. Therefore, building owners will likewise want to carefully consider location and climactic hazards when contemplating the use of solar technology.
1.) Work With Reputable Manufacturers and Installers
As market demand for solar has increased, so has the number of contractors and companies supporting the industry. However, not all installers are certified for solar, which can lead to questionable workmanship, improper installation, and increased fire risk. Solar contractors and installers who have earned their North American Board of Certified Energy Practitioners voluntary certification are considered more favorably by insurers. As part of due diligence efforts, building owners should also confirm if an installer holds a manufacturer's certified designation.
Additionally, owners would benefit from ensuring that installers follow National Electric Code (NEC) guidelines. These have been adopted in all 50 states and represent the benchmark for safe electrical design, installation, and inspection. If a contractor is unfamiliar with NEC, that is a red flag.
2.) Use Quality Solar Panel Materials
Another factor that facilities managers should consider is the materials that solar panels are composed of. Make sure the panel module frame and back sheets are not constructed of plastic, especially a foamed plastic, which can be highly combustible and lead to a rapidly developing fire.
3.) Evaluate Rooftop Quality
One frequently overlooked solar panel risk is the combustibility of a building's roof. There are three different insurance classes of roofs. To determine the class of roof on a commercial building, the property owner or manager can check the building code that designates the type of construction based on size and occupancy and establishes minimum fire-resistance classification of a roof assembly. Certain buildings are required to have a minimum level of fire resistance based on the occupancy and use of the building.
Class A roof coverings are fire rated for severe fire test exposures and is the safest for solar panel installation. Lower roof classes often have combustible insulation underneath the roof cover, which can make electrical fires worse on a rooftop panel. Combustible insulation can easily ignite and move a rooftop fire down into the building's structure.
4.) Create a Rapid Shutdown and Rooftop Access Plan
The presence of solar panels can create issues for firefighters, creating a risk of shock and electrocution as they are working and trying to put out flames. That's why it is important for commercial building owners and managers to create written emergency plans with clear lines of responsibility for shutting down solar power. Those plans should be developed proactively in partnership with the local fire department.
Additionally, adequate space must be available on the roof for firefighters to combat a fire. They may need to cut holes and open a roof to allow smoke and hot gases to exit a building. But if solar panels are placed too closely together, it may prevent them from doing this. Typically, rooftop panels should have 4 to 6 feet of perimeter on the roof and in between panels.
5.) Inspect Solar Connectors
Solar panels rely on cables that connect inverters and combiner boxes to transfer electrical energy. As supply chains were disrupted during the pandemic, some solar panel installers used incompatible cables and connectors that were not from the same manufacturer. That can create a potential electrical failure point, causing a short circuit and possibly initiating a fire. It is recommended to update connectors as soon as possible to ensure compatible parts are used together.
6.) Schedule Regular Maintenance and Testing
As with any system, solar panels are susceptible to wear and tear and require regular testing and maintenance. Detailed inspections are recommended every two years, which includes powering off the entire system and testing all elements. There are a growing number of reputable national firms that building owners can hire to conduct this work.
7.) Other Weather-Related Hazards
Physical damage to panels from hail, wind, wildfires, or earthquakes is also a consideration. Depending on the geographic location, additional measures can be taken to reduce the likelihood of loss from weather-related damage. This could include additional clearing and trimming of trees around the building or installing special guards to protect the panels during a weather event.
Initially, the foundation for the solar array should be designed to meet the wind load requirements of the region. Wind load depends on the size of the array and the tilt angle of the panels. The installing contractor must make sure the roof is able to support the weight of the solar arrays and recommend the minimal effective ballast.  The contractor will also assess the wind interactions with the solar panels, exhaust stacks, HVAC units, penthouses, parapets, and other roof features.  Once this is determined and the solar panels are attached to the roof, they should stay firmly attached with strong non-wooden racks that offer the ability to withstand extreme wind gusts of 90 to 110 miles per hour or higher.
Despite the potential risks, implementation of renewable solar power is expected to grow in popularity. Overall, the adoption of solar energy can provide opportunities for businesses, but it is important to understand the additional risks and challenges associated.
By Tracey Greene and Kenneth Travers, Contributing Writers
Tracey Greene leads the insurance underwriting for The Hartford's real estate industry practice.  
Kenneth Travers is Technical Manager – Property and Product Specialist for The Hartford. He has more than 43 years of experience in the risk engineering field developing and delivering loss control engineering services and assessment tools for complex businesses with a focus in natural catastrophe, business impact, supply chain and fire protection engineering applications.  
The post "7 Practical Strategies for Onsite Solar Installation" appeared first on Building Operating & Management