Two weeks ago, I had the opportunity to attend The 1st University of Maryland/NFPA Fire & Life Safety Ecosystem Symposium, in College Park, Maryland, U.S.A, where fire and life safety experts from across the globe gathered to discuss the principals of the NFPA Fire & Life Safety Ecosystem™ and its application to address today's fire safety issues. For those of you who are not familiar with the NFPA Fire & Life Safety Ecosystem™, it is "a framework that identifies the components that must work together to minimize risk and help prevent loss, injuries and death from fire, electrical and other hazards." In other words, it identifies the items NFPA feels contribute to achieving the expected level of safety when it comes to fire and electrical hazards. Each component is depicted as a cog, each of which connect to form a circle.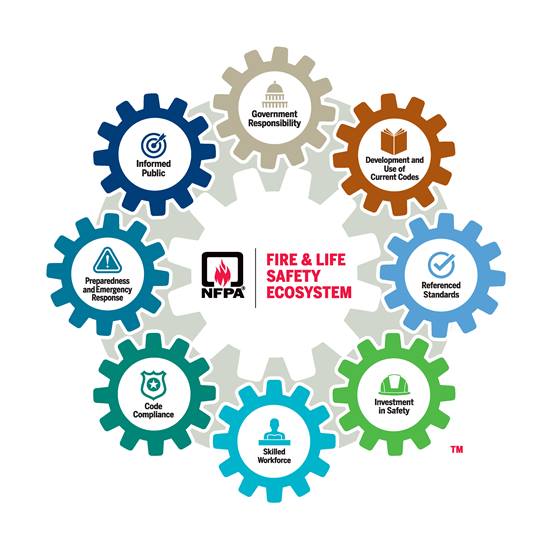 Over the two day symposium attendees reviewed case studies on the Ghost Ship Warehouse fire in Oakland, CA (2016); the Grenfell Tower Fire in London, UK (2017); and the Camp Fire, Butt County, CA (2018); and also discussed emerging issues involving residential fires; the safe use of alternative energy; and how to think about fire safety when using new building materials. Each topic was evaluated through the lens of the NFPA Fire & Life Safety Ecosystem™.  In many of the case studies multiple components of the ecosystem failed or lacked effectiveness. When discussing the emerging issues, no single component would solve the challenge presented. This seemed to lend to the idea that all the cogs must be working together to ensure the expected level of safety, so what happens if just one isn't operating at peak performance? Does the ecosystem still provide a level of safety because the cogs remain connected?
One example that came up several times was the need to mandate automatic fire sprinkler systems in all new and existing high-rise buildings. According to research done by NFPA, fire Sprinklers have been shown to be an extremely effective of increasing life safety with an 89% reduction in fire deaths in properties with automatic fire sprinklers as compared to those without. So, sprinklers would certainly make an impact on reducing deaths in fires. NFPA 1 Fire Code requires automatic fire sprinklers systems in all new high-rise building and all existing high-rise buildings within 12 years of the code becoming law. Mandating compliance with the most recent edition of this code through legislation falls under government responsibility cog.

If the government responsibility cog was effective, this incorporation of NFPA 101 Life Safety Code would be one way they could create laws which prioritizes public safety needs.  However, as is sometimes the case a local government also could incorporate into law a modified NFPA 101 Life Safety Code, one which doesn't mandate sprinklers in all high-rise buildings, specifically existing buildings. In the second case, one could argue that this cog would not be functioning at its optimal potential. How does this impact the level of safety in existing high-rise buildings?
There are many examples of major fires in non-sprinklered or partially sprinklered high-rise buildings including the One Meridian Plaza fire (1991), the Cook County Administration Building fire in Chicago (2003), the Marco Polo Apartment Building Fire in Hawaii (2017) and the Twin Parks Northwest fire in New York City (2022). In all these cases a review of the fire concluded fire sprinklers could have made an impact, however all had multiple challenges; One Meridian Plaza had issues with water supply in the standpipe system; the Cook County Administration Building had locked doors preventing reentry on the floors above the fire; and both the Marco Polo and Twin Parks Northwest fires both had issues with self-closing doors. These challenges touch the Skilled Workforce, Code Compliance, and Investment in Safety cogs, resulting in the entire system failing.
As I reflect on the discussion during the first NFPA Fire and Life Safety Ecosystem Summit, I can't help but wonder if another part of the ecosystem concept is the resiliency of the anticipated level of safety in buildings. Each cog is interlaced with the next, adding elements of safety which can work together in an emergency to prevent a major tragedy. When one cog is not functioning at its optimal potential does the circular concept of the ecosystem allow the others to "turn" or function which will provide some level of safety, reducing the likelihood of a significant incident?
As we wrap up fire prevention week, let's think about all the cogs and how they'll advance the level of safety for the public. Government Responsibility, Development and Use of Current Codes, Reference Standards, Investment in Safety, Skilled Workforce, Code Compliance, Preparedness and Emergency Response, and Informed Public all work together. Buildings which are designed, constructed, and operated with all these in mind really do have a level of safety which works to protect their occupants. Check out the NFPA Fire & Life Safety Ecosystem™page for more on the concept, an assessment tool as well as the 2020 & 2021 Year in Review reports on the state of the ecosystem.
Important Notice: Any opinion expressed in this column (blog, article) is the opinion of the author and does not necessarily represent the official position of NFPA or its Technical Committees. In addition, this piece is neither intended, nor should it be relied upon, to provide professional consultation or services.
The post "A level of Safety – NFPA Fire & Life Safety Ecosystem" appeared first on NFPA Today Blogs