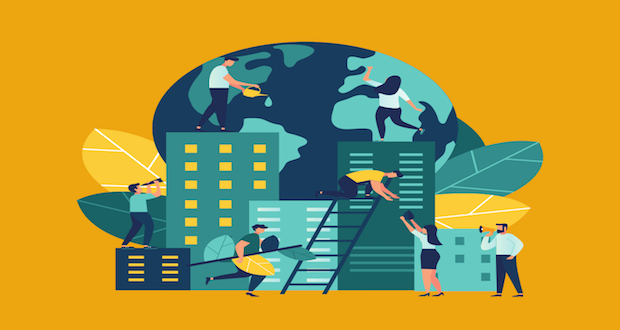 Building Services Engineers have a vital role in delivering net zero buildings which are adapted for climate change. The CIBSE Climate Action Plan reflects the ongoing work and impact that building services engineers have in finding innovative ways to make buildings perform for individuals, the community, and the planet. In line with long-standing CIBSE advocacy, it has a strong focus on performance outcomes, energy efficiency, and in-use evaluation.
CIBSE has long been active on the topic of climate change mitigation and adaptation, linking it to building performance. To increase our efforts, in July 2019 CIBSE produced its first Climate Action Plan, mapping our current and planned activities in the areas where we have a duty and the ability to act as a professional institution. CIBSE committed to review the plan regularly, and this Summer 2022 version is the third annual update.
The plan details areas related to CIBSE as a professional institution, its premises, events, dissemination of information, policy research, professional competence, and training. The latest revision includes updates on collaboration with wider industry, training and CPD commitments, the CIBSE Building Performance Awards, contributions to policy, and new and updated guidance.
The updated CIBSE Climate Action Plan maps current progress and identifies areas for further action and development. It provides updated relating to ongoing collaboration including the CIBSE LETI net zero FAQs, providing guidance on what net zero means in practice, along with CIBSE's involvement in a coalition of leading industry bodies to develop a UK Net Zero Carbon Buildings Standard. This is essential to deliver outcomes which are technically robust, trusted, and have cross-industry backing.
CIBSE have started a strategic review of training offered in support of the net zero agenda.
After committing to introducing mandatory CPD on climate change and safety, the CIBSE CPD panel have started the process of implementing mandatory CPD on climate change.
With a focus on clarity and providing maximum benefit to industry, CIBSE continue to assess the performance data requirements for entering the internationally recognised, Building Performance Awards. The latest version of the Awards, open for entry until 14 September, reflects our continuous review of best practice, and industry's progress in both building performance and producing quality data.  There are now two new embodied carbon awards, one recognising manufacturer and supplier and the other recognising consultants.
CIBSE continues to work on policy, including the Future Homes Standard, operational ratings for non-domestic buildings, Standard Assessment Procedure (SAP), and various heat decarbonisation workstreams.
Since the previous version, published in August 2021, CIBSE has produced a large range of new and updated guidance on topics including heat pumps, embodied carbon, electrification of buildings and building performance modelling.
The third revision of the plan is available for free download from the CIBSE website.
The post  CIBSE Climate Action Plan review highlights the ongoing impact of building services engineers in delivering net zero appeared first on FMJ.