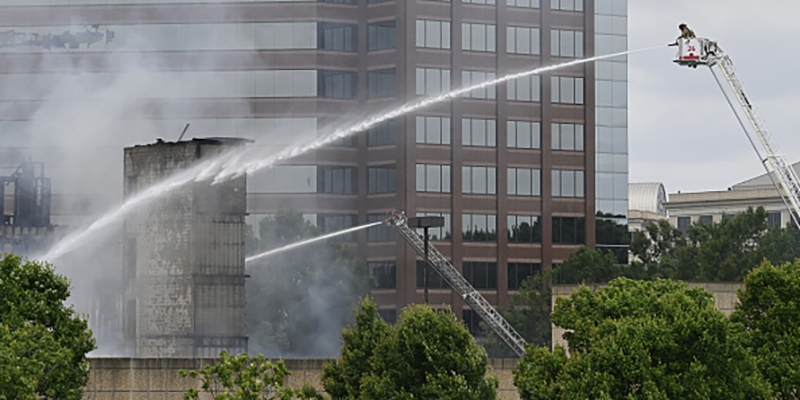 Fire safety officials in North Carolina are considering incorporating requirements from the latest edition of NFPA 241, Standard for Safeguarding Construction, Alteration, and Demolition Operations, into the state fire code after a massive, deadly blaze earlier this month.
"We do hope that the latest updates [to NFPA 241] will be considered," Chief State Fire Marshal Brian Taylor told The Charlotte Observer. Currently, NFPA 241 is briefly referenced in the 2018 North Carolina Fire Prevention Code, which is the latest version of the code, but experts say a fuller incorporation of the 2022 edition of NFPA 241 could help reduce the risk of more fires like the one that razed a multistory apartment complex under construction in Charlotte on May 18. The fire left two construction workers dead, while more than a dozen others had to be rescued.
A city seldom sees the magnitude and tragedy last week's fire. Over 90 Charlotte firefighters spent hours controlling a 5-alarm fire at a construction site. The radio communication you'll hear in this video only partially relays the dramatic intensity of Thursday, May 18, 2023. pic.twitter.com/XP3zHcjsOP

— Charlotte Fire Dept. (@charlottefire) May 22, 2023
Included in the changes from the 2019 edition of NFPA 241 to the 2022 edition were a new section to help authorities having jurisdiction (AHJs) with enforcement of the standard, enhanced requirements for creating a fire prevention program (FPP) for construction sites, and a new chapter on large wood-frame construction, among others. The structure that burned in Charlotte was reported to be of large wood-frame construction. "I'm really proud of the latest edition of the standard," Bruce Campbell, a fire protection engineer and vice president at Jensen Hughes, who serves as the chair of the NFPA 241 technical committee, told NFPA Journal for a 2021 article that explored the changes to the latest edition of NFPA 241.
Although the next edition of the North Carolina fire code isn't set to take effect until January 2025, North Carolina Chief Fire Code Consultant Charlie Johnson told The Observer that changes could be introduced sooner. The NC Fire Code Revision Committee is scheduled to meet next week, the newspaper reported.
Rising numbers & enhanced solutions
North Carolina is far from the only place in the United States—and around the globe—where firefighters, building officials, construction workers, and other professionals face fire safety challenges at construction sites. According to the most recent data from NFPA®, the number of fires in buildings under construction in the U.S. has been steadily rising since 2014. On average, U.S. fire departments respond to 4,300 fires in buildings under construction per year—that's nearly a dozen such blazes every day. These fires also inflict an annual average of $375 million in direct property damages, according to the data.
Some policymakers and fire service professionals have speculated that the rising numbers of construction fires over the past several years could be due to a boom in wood-frame construction for large, multifamily dwellings. "We're on heightened awareness of these, and especially when they're in the most populated areas," Taylor told The Observer about this type of construction. "You'll see them in downtown Raleigh, downtown Charlotte."
But there have been many examples of non-wood-frame buildings under construction burning, too, and experts say building materials alone don't change the risk of a fire starting.
"Construction is a vulnerable point in any building's life cycle," Jon Hart, a technical lead at NFPA, said in a recent NFPA Journal article. "There can be a lot going on, such as welding and other hot work activities or the use of cooking equipment by workers. In addition to that, you can have piles of combustible debris and fire protection systems that aren't fully operable yet. All of this creates an environment where fires can start, so it's critical for building owners, construction companies, and authorities having jurisdiction to ensure proper safety plans and procedures are in place for any project."
To establish fire, life, and electrical safety in buildings and other spaces—no matter what stage of development they may be in—it's critical for jurisdictions to use the most up-to-date codes and standards. In fact, that concept is one of eight components outlined in the NFPA Fire & Life Safety Ecosystem™, which is why NFPA Vice President of Outreach & Advocacy Lorraine Carli applauded the efforts taking shape in North Carolina to incorporate the 2022 edition of NFPA 241 into the state fire code.
"The recent fire in Charlotte was an absolute tragedy, but we hope it can lead to changes that could help to prevent future tragedies like this from occurring in North Carolina and in other places," Carli said. "Safety exists as a system, where everything from the use of modern codes to employing skilled workers matters. So it's not just about saying, 'Let's use NFPA 241.' It's about training on it, implementing it, and ensuring there is proper enforcement."
RELATED: Read the latest research report from NFPA on fires in buildings under construction; watch a recent NFPA webinar about protecting buildings under construction from fire
---
EXPLORE ONLINE TRAINING COURSES FROM NFPA RELATED TO FIRES IN BUILDINGS UNDER CONSTRUCTION
• Fire Prevention Program Manager Online Training Series
• Construction Site Fire Safety Fundamentals Online Training
• NFPA 241 Online Training Series
• NFPA 70E®, Standard for Electrical Safety in the Workplace®, Online Training Series
• Hot Work Safety Training Certificate Online Training (also available in Spanish)
Visit nfpa.org/constructionsafety to explore a variety of NFPA resources aimed at helping to prevent construction fires.
Top photograph: Getty Images
Important Notice: Any opinion expressed in this column (blog, article) is the opinion of the author and does not necessarily represent the official position of NFPA or its Technical Committees. In addition, this piece is neither intended, nor should it be relied upon, to provide professional consultation or services.
The post "Deadly North Carolina Construction Blaze Could Spark Update to State Fire Code to Include More from NFPA 241" appeared first on NFPA Today Blogs