The UK is headed for a roadblock. According to the 2023 Progress Report issued by the Climate Change Committee, "the UK is failing to make progress on the net zero transition on nearly every measure". Hands up who is not surprised?
We are facing two rather pressing problems. One is the potential overheating of the planet to catastrophic levels (let's not forget the reason for the 2050 targets in amongst all the political rhetoric). The other, is that there simply are not enough skilled people in decarbonisation to actually get the job done.
In 2019, the Government amended the Climate Change Act 2008 by introducing a target of at least a 100 per cent reduction of greenhouse gas emissions, compared to 1990 levels by 2050. From 1st April this year, commercial buildings were required to achieve an energy rating of E, with an eventual target of them all rating C and B by 2027 and 2030 respectively. This currently puts 70 per cent of the commercial building stock at risk according to a recent report by Knight Frank and "to meet the target, the current retrofit rate will need to quadruple in the intervening years".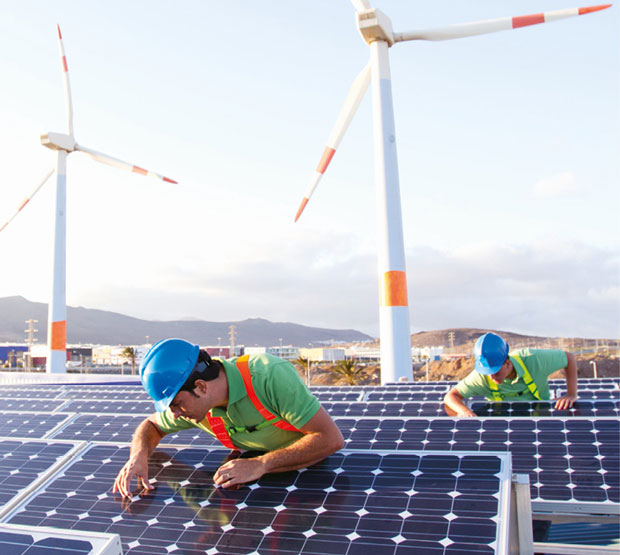 RETROFIT
'Retrofit' is the buzz word around the assessment, design and installation of energy efficiency measures and renewable technologies on existing buildings. Standards and registrations to help ensure quality on installations include MCS (Microgeneration Certification Scheme), PAS 2030, PAS 2035, PAS 2038 and TrustMark.
The opportunity here is massive and under any other circumstances it would be a gold rush. But there simply aren't enough people trained in green skills and retrofit to service this need. There have been attempts to upskill and cross-skill through government funded schemes over the last couple of years, however there is still a huge shortfall of organisations that hold the right certification (which includes proving their employees have the skills to deliver to a certifiable standard).
So, it is the sector itself that needs to lead the charge by upskilling its people in retrofit skills. For those that invest in people's future the benefits are huge – solving a problem for the landlord, capturing the opportunity to be at the forefront of sustainability and training the next generation of sustainability experts, thus future-proofing the business.
Not only that but with rising cost of, well just about everything, now is the time for FM companies to get ahead in the race to net zero (and it is a race).
In a recent report by CBRE, it was suggested that a few factors are heavily influencing FM currently. Clients are looking to reduce costs, improve operational efficiency and require more automation – and of course the journey to net zero will support all of that. Not only does it make good business sense for the future but sustainability makes good business sense for now.
FILL THE GAP
The reason we acquired Expedient Training was to help fill the gaps in green skills across the built environment while meeting the needs of the standards within the industry. Often, companies don't have the internal knowledge or understanding of competency in a way that maps over the standard and therefore training needs are simply not being met.
We are working with our clients to attract new blood into the industry, because the career prospects and long-term benefits of a career in construction and facilities management are huge. It's vital to get more energy efficient installers and professionals into the domestic market along with upskilling individuals so that they meet the PAS 2038 requirements (retrofit of non-domestic buildings).
Training companies and facilities management companies need to be working together to do more to attract talent into the industry. This starts at grass roots level, encouraging young people into the industry through schools and colleges. Young people simply can't pick a career they know nothing about. There is also significant opportunity for people from other industries to make career changes with some additional training required for those who currently work in the domestic market.
Through apprenticeships, NVQ's and training, we can support young people, those already trained in PAS 2030 (domestic buildings) and those from other industries into the non-domestic market and set them on dedicated training pathways through to becoming lead assessors, lead professionals and energy efficient installers.
We have developed a range of courses to support professionals in their understanding of PAS 2030 and PAS 2035. Running alongside recognised qualifications, we deliver training to support professionals in carrying out their roles.
It is only through working in partnership that the UK supply chain will plug the gaps within the non-domestic market. The challenge is a big one, but the opportunities for companies willing to invest in its people are massive. Let the gold rush begin.
Why facilities management needs to lead the charge in upskilling the nation ahead of 2050 says Alexandra Gates, Managing Director of Expedient Training
The post Green skills appeared first on FMJ.