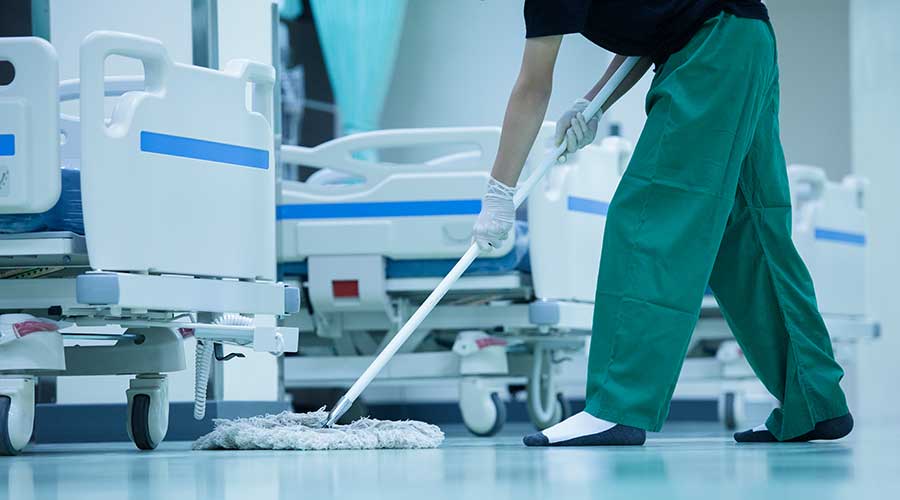 Changing expectations placed on flooring in hospitals brought on by pandemic have created more complex replacement decisions for managers.
Flooring takes a beating in institutional or commercial facilities, no matter where it is installed. As with many other facility components and products, flooring is an afterthought for many facility occupants and visitors – until something goes wrong. In the case of flooring, that something tends to be appearance. Dingy floors can catch the eye of even the most distracted building occupant.
But for healthcare facility managers, flooring considerations go far beyond appearance and start long before any occupant or visitor might notice a change in its appearance.
Looking for trouble
The challenges of flooring in healthcare facilities are familiar to Natasza Naczas, a project manager with Project Management Associates.
"I worked at two healthcare facilities, so I know very much where they're coming from," Naczas says. A sure sign that flooring might require replacement is a change in appearance.
"If there's patching that needs to happen because of just routine wear and use, that's kind of a big tell that it needs to be replaced or patched again with a similar product," Naczas says. "That's the biggest tell. Nobody's going to replace any floor that looks perfectly fine. If it's not performing well, if it needs to be replaced, if it's gouged by some machinery, if the cleaning product isn't working out, if it's popping up, then it needs to be looked into."
Perhaps the toughest flooring challenge for healthcare facilities is the range of cleaning issues managers need to consider given the differing needs of critical areas, from operating and patient rooms to hallways and lobbies.
"Lobbies have a very different function," Naczas says. "Anything clinical is looked at differently in terms of cleaning and maintenance than a public space, and the types of equipment rolling around are very different. In a clinical place, you have beds, you have all sorts of heavy machinery that could rip off any flooring, whereas in public areas, it's different types of traffic.
"While there are lots of people walking through (lobbies), I think it's lighter in terms of weight that would travel through. The public realm can go with a more decorative kind of look as long as it can be cleaned and maintained similarly to the rest of the flooring throughout the space and throughout the building. There's more flexibility in a more public realm than in the clinical space. In the clinical space, the issue is how it's going to perform."
The pandemic introduced one specific challenge to flooring in hospitals and elsewhere.
"I know that they do have issues with hand sanitizer," Naczas says. "Hand sanitizer is a mainstay in all hospitals, and it's only increasing because of the pandemic. That stains like the dickens and eats away at finishes. If it drips on the floor, it can eat away at a flooring finish. That's a big hurdle that they're dealing with."
Product considerations
A range of parties, including designers and medical staff, are involved when it comes to selecting replacement flooring for healthcare facilities, but Naczas emphasizes the critical role facilities and environmental services departments play in the final decision.
"The largest voices in the hospital are the infection control people and environmental services," she says. "They will be the loudest voices in both of those spaces — what (flooring) products they want and how they want to maintain it. So those are the two top priorities. That is a huge factor. How can we clean it, or how can we get away with not cleaning it as often as we need to but still have it look clean?
"If they were to explore a new product, it would still need to be looked at for maintenance. Can it be maintained similarly to the existing facility? If they're only replacing carpet or flooring in one clinic, it needs to be compatible cleaning-wise with the rest of the hospital. That's paramount. If it's like to like, then there's no problem. But if there's something else that is making this cost different, then that would need to be scrutinized as in, 'Why wouldn't we go with the legacy product?' "
Flooring selection also needs to take into account the types of flooring used elsewhere in a facility.
"The first thing that would be important is if the facility has a legacy product that they already have committed to," Naczas says. "Whether it's a certain type or manufacturer, they already have it everywhere else in the facility. Is there a product that matches that, or does that product still exist? That would most likely be at the top of the line for selection.
"A lot of times, flooring manufacturers are selling that the maintenance is different from a hospital facility, whether there's waxing or no waxing. That's a big culture shift in the environmental services. There would be a lot of collaboration needed between environmental services and the manufacturer if a new product is selected that needs to be maintained differently. That's a larger ask than you might think."
Managers mistakes?
For all of the challenges that selecting, installing and maintaining a new type of flooring can present for managers and their departments, the decision can present opportunities to facilities. Too often, though, managers balk at the potential change.
"They're sometimes hesitant to look at alternative products that could be more beneficial for them because it is such an education process that needs to happen," Naczas says. "If it's easy, then let's do the easy thing and do it quick. We know it. We don't have to think too hard about it. We can move forward.
"There are a lot of great, different products out there, and sometimes they're very successfully integrated into facilities. But it's a culture shift, and that's the biggest hurdle in getting any facility to change to a different type of product."
Many managers also stumble when trying to adapt cleaning products and procedures to meet the expectations of patients and visitors who view hospitals differently in light of the pandemic.
"Cleanability is more important in general because of the pandemic," Naczas says. "Everybody wants everything to be clean everywhere. What are the tricks you can use to clean things quickly and efficiently? They're using stronger chemicals, and those tend to eat away at finishes. Not only flooring is affected but upholstery and walls. They are the biggest culprit, these types of chemicals."
What lies ahead
The changing expectations placed on flooring in hospitals brought on by the pandemic have created more complex replacement decisions for managers. They have to make cleaning and infection control higher priorities while trying to minimize the impact of facilities on the environment.
"In general, there's a shift toward trying to make products greener and more ecofriendly," Naczas says. "Hospitals have traditionally used a lot of vinyl flooring because it can be cleaned easily, and it's relatively inexpensive. And there are a lot of facilities that use VCT, or vinyl composition tile. That tile is shifting to be more bio based. There are more companies that are internally looking at the product lines that they have and are trying to shift them to be more ecofriendly."
Naczas says managers need to approach new-generation flooring with caution.
"I use that term (ecofriendly) lightly because they're not green, though they're greener than the original product," she says. "It's a shift in cleaning products, and it could be more expensive.
"It comes down to seeing what products are available that will meet your maintenance protocols. I worked on one hospital where they really wanted to eliminate waxing, but they are really adamant on, 'Shiny equals clean.' We looked at everything and really used our resources to say to our vendors, 'What have you got? We need this type of product to do this, but it also needs to do that.' It was a different introduction to tile."
Still, Naczas advises managers to keep an open mind when making decisions on replacement flooring.
"It could be a very different product," she says. "It might cost a little bit more, but it could be better in the long run. The whole thing ends up being a cost and maintenance exercise. Visuals are great, but they're usually the last thing that's looked at because everything else is so much more important and critical in a hospital environment."
Dan Hounsell is senior editor of the facilities market. He has more than 30 years of experience writing about facilities maintenance, engineering and management. 
The post "Healthcare Flooring: Balancing Cleaning and Sustainability" appeared first on Healthcare Facilities Today