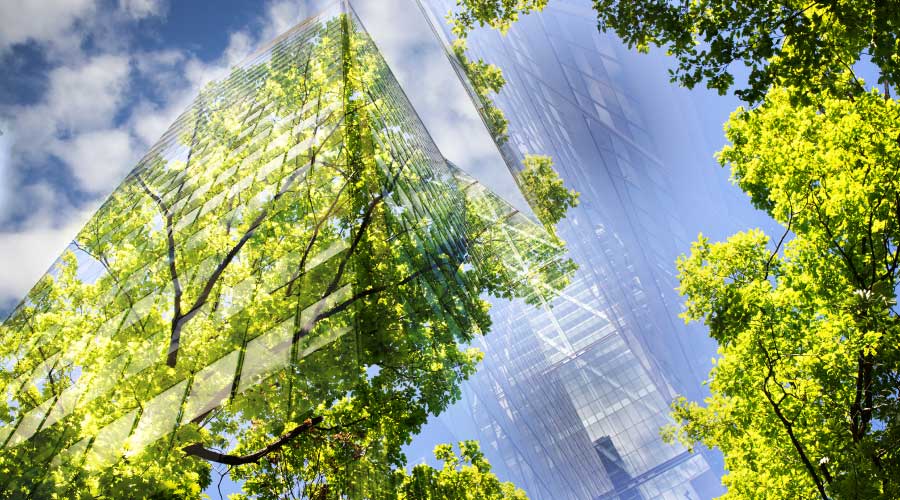 Regenerative buildings are necessarily the next step in the progression of designing, building, and operating facilities. Here's what you need to know.
The term "regenerative building" is a little bit of a misnomer. Of course, the term doesn't mean that buildings themselves – their walls, roofs, materials – regenerate. Rather, a regenerative building refers to one that is able to produce a positive outcome on its environment, whether that means helping regenerate an ecosystem, generating more electricity than it uses to supply energy to the grid, or even helps regenerate and rejuvenate the health and wellness of building occupants.
Many in the buildings industry strongly believe regenerative buildings must be the next step in how we design, build, and operate buildings. Buildings that not only do no harm to the environment and the people who live, work, and play in them, but actually have a net positive benefit are the only way forward for the buildings industry.
Another way to think about a regenerative building is one that is alive. No building is a set-it-and-forget-it proposition, but that's especially true for living, regenerative buildings.
We recently spoke with Jessica Bristow, Director, Living Building Challenge, and Kathleen Smith, Vice President, Programs + Innovation, at the International Living Future Institute about regenerative buildings and how the buildings industry can transition from current theory to make regenerative buildings the norm rather than the exception.
FacilitiesNet: What is a regenerative building, exactly? 
Jessica Bristow and Kathleen Smith: When we refer to regenerative buildings, we mean buildings that regenerate the health and resilience of ecosystems, economies, cultures, and people. We use that term rather than 'Sustainable Buildings' for two reasons: first, because we are aiming for positive impact, not just a lack of or lessened negative impact. Second, because the term 'sustainable' is more typically understood to refer to just the environmental impacts of an industry, not the economic and social ones.
Retaining and reusing existing buildings is an essential part of what good looks like, and evolving an existing building from net-zero energy toward being truly regenerative is an ambitious (and needed!) progression.
FacilitiesNet: How can existing net-zero energy buildings take the next step toward being a regenerative building? 
Jessica Bristow and Kathleen Smith: There are many opportunities to further an existing building's positive impact, both within the building itself and also in its surrounding site and broader community; concerning not only environmental and energy targets but also social and cultural ones.
Within International Living Future Institute's programs, this could look like achieving Core Green Building certification, or Petal or Living Certification using the Living Building Challenge beyond our Zero Energy or Zero Carbon Certifications. Whether or not certification is pursued, some strategies could include: retrofitting the existing building to achieve net zero water (for example by capturing and using rainwater and treating and reusing gray or blackwater); eliminating fossil fuel use in the buildings HVAC, water heating and cooking systems; restoring the natural systems and ecosystem functions of the site; approaching building upgrades or interior renovations through a lens of health and circularity (for example, using salvaged materials where possible and selecting healthier materials): or improving the building's resiliency to increasing heat, precipitation, or sea level rise.
Beyond building improvements, the owner or occupants could explore and engage with the local community to better understand the context, history, challenges, needs and assets of neighborhood residents and businesses. The owner and occupants could make physical changes to the building and site to meet some of the community's needs or enrich the culture. For example, if there is limited access to fresh food in the neighborhood perhaps the owner could host a weekly farmer's market on site. The owner and occupants could also make operational changes to benefit the community such as inviting community members to use outdoor gathering spaces and indoor meeting rooms for events, meetings, etc. The building occupants would also participate in and support local activities, or make offsite improvements in the area (environmental, energy-focused, or social).
The building owner, occupants, or design professionals could also get involved beyond the site through policy. In order to achieve a living future for all, we must change the laws that impact how buildings are built and how they are maintained and operated. New policies and resources are being supported and advanced by ILFI to promote an increase in regenerative impacts for existing buildings (through Building Performance Standards and similar policy realms) and new buildings (through engaging with stretch codes, model code language and other policy levers for new buildings). We invite you to join us!
By Greg Zimmerman, senior contributing editor  
Greg Zimmerman is senior contributor editor for the facility group, which including FacilitiesNet.com and Building Operating Management magazine. He has more than 19 years' experience writing about facility issues. 
---
---
---
Related Topics:
The post "How Do We Create Regenerative Buildings?" appeared first on Building Operating & Management