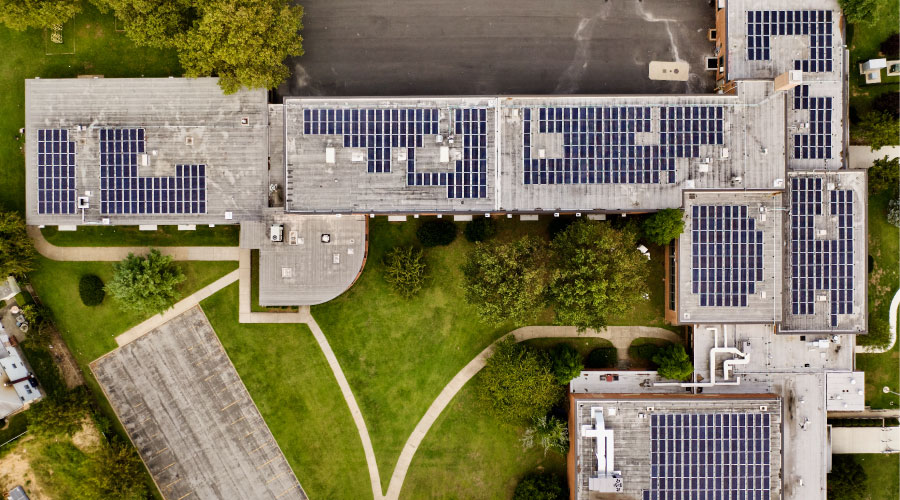 An interview with the NRCA's director of technical services sheds light on some of the big movements within the roofing industry.
Roofing is an industry that has a reputation, however unfounded, for innovating slowly. That is changing in several respects. New, more durable products are being developed to meet the moment. Innovative technologies that help buildings save energy and reduce greenhouse gas emissions are hitting the market at an impressive rate. And crucially, roofing codes and standards are changing and becoming more stringent to protect buildings, people, and property. As codes and standards become stronger, roofing manufacturers must continually update existing products and innovate with new products to keep up. So far, that seems to be happening.
Extreme weather caused by a changing climate is getting worse, and facility managers have to pay increasing attention to how their roofs can stand up to strong winds, hail, torrential rains, and worse. Facility managers know that resistance to wind uplift is one of the most crucial aspects of choosing a roofing system. And no matter the type of system – standing seam metal on a sloped roof, single-ply membrane on a flat roof, or other – there's a stringent standard which the roof must conform. The American Society of Testing and Materials, Underwriters Laboratory, and Factory Mutual all have developed standards for wind uplift for different types of roofing.
Furthermore, roofing is a critical part of a whole-building sustainability and energy efficiency plan. Sustainability standards like ASHRAE 189.1, which delineates whole-building sustainability guidelines, have ramped up their language and stringency, and roofing plays a critical role in meeting these standards. Perhaps the most recognizable green building standard, LEED, still includes several credits focused on sustainability in roofing, as well.
Building Operating Management recently spoke with Glen Clapper, director of technical services for the National Roofing Contractors Association (NRCA), about roofing innovations, codes, and roofing's role in whole-building sustainability.
BOM: Can you discuss some of the most important energy code changes facility managers should be aware of from the last several years? 
Clapper: When it comes to roof replacements on an existing building, insulation has been one area that has changed with requirements increasing. Of note, in the past, energy codes have been silent on what a building owner was to do if replacing a roof and upgrading the insulation to meet a newer energy code and existing conditions prohibited the needed increase in thickness of insulation on the roof. In the last couple of years, new language has or is being incorporated that essentially says, "do the best you can." In other words, install the maximum amount of insulation that the existing conditions will permit. Another area is the increase in stringency related to air leakage in a building. The maximum rate of air leakage permitted in the energy codes has been decreasing and based upon recent energy code development activities, will decrease more in future energy code updates. For the overall building, this means better detailing and installation of air barrier interfaces a building's walls, windows, roof and foundation.
BOM: How much does a roof truly contribute to whole-building compliance to energy codes? 
Clapper: It is somewhat difficult to say. When looking at the building thermal envelope, the contribution of the roof will vary depending on the roof-to-wall ratio. A warehouse with a large roof area compared to its wall area will have a greater contribution to the energy efficiency of the building than a multi-story building with the same gross floor area but a higher wall-to-roof ratio. However, within the energy code development circles it has been acknowledged that the contribution of the roof to the overall building energy efficiency has nearly been reached.  Greater improvements will come from mechanical and lighting systems.
BOM: Are there attributes of a commercial roof beyond its reflectivity and emissivity that can help it conform to energy codes, or improve facility energy efficiency generally? 
Clapper: Insulation and air tightness. The energy code specifies the minimum amount of insulation required for a roof assembly depending on where in the world/U.S. the roof is located. Generally, roofs located in warmer climates require less insulation than those in colder climates.  The energy code also establishes a maximum air leakage rate permitted for a commercial building that is addressed through the inclusion of an air barrier in the roof assembly. Many times, the roof membrane can function as the air barrier. The energy code requires that penetrations through the air barrier be sealed, meaning any pipes, duct work, electrical conduit through the roof membrane, when used as the air barrier, must be sealed, not only to prevent water infiltration, but against air infiltration/exfiltration.
BOM: How does roofing fit into overarching sustainability codes like ASHRAE 189.1? Are there updates to this code imminent? 
Clapper: The minimum requirements for roofs are greater or more stringent. For instance, the minimum insulation required in moderate climates, typically the central U.S., and colder is greater than in the base energy code. Similarly, the air tightness is more stringent than the base code and exceptions permitted in the base energy code are prohibited in the ASHRAE 189.1/IgCC. Additionally, increased roof reflectivity, typically referred to as a cool roof, may reduce heat island effects experienced in urban areas. ASHRAE 189.1 is wrapping up the 2023 version or update to the standard for inclusion in the 2024 IgCC, however there are no technical changes or revisions related to roofing.
Greg Zimmerman is senior contributor editor for the facility group, which including FacilitiesNet.com and Building Operating Management magazine. He has more than 19 years' experience writing about facility issues.  
The post "How Roofing Code Changes Drive Innovation" appeared first on Building Operating & Management