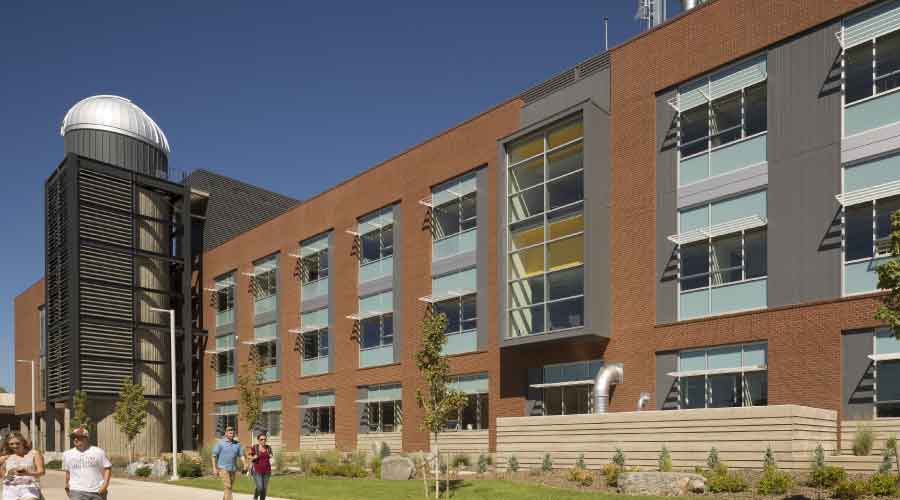 Grounds at educational facilities need to provide a learning environment, but also protect students and staff.
Safety and security have always been a concern in campus settings, but changing circumstances have brought new points to light. Students' concerns continue to highlight the need for personal safety and security solutions on higher education campuses to ensure not only the best education but healthy minds and bodies. Every student should have access to readily available resources designed to ensure the needed support at every level on campus.
New research from ADT and the Clery Center found 97 percent of students surveyed thought about personal safety issues daily and implemented a variety of protection methods including traveling with fellow students, being familiar their environment, and always having their mobile phones. Students confirmed interacting with strangers, being in unfamiliar surroundings, walking home in the dark, and leaving a party alone among their top concerns.
A similar study from Honeywell Building Technologies reported comparable concerns with safety and security ranking among top priorities on educational campuses. The study, "Rethinking Education Facilities as Digital Entities," found 93 percent of schools in the previous year reported emergency incidents related to infrastructure breakdown and 43 percent reported cyber or physical site breaches. Nearly half of educational facility managers responding to the survey stated site security, as well as fire and life safety systems, as crucial priorities in the coming months. The study assessed priorities of educational facility managers in the United States, China, and Germany, from pre-kindergarten to college, university, and trade school levels, and found priorities included physical and digital infrastructure related to safety, security, emergency responsiveness, and building health. The main challenge faced by education facility managers is developing a positive learning environment while also protecting students, faculty, staff, and property with more than 70 percent citing safety and security issues as the main concern.
Safety is always a factor
Safety is always a factor with any project. Some aspects of this issue, particularly on campus, have yet to be considered. Areas with more activity and larger numbers of people are naturally going to be safer spaces because others are always present.
On campuses, classroom spaces are not often the issue but those areas surrounding buildings with infrastructure containing screens around back stairs or mechanical transformers pose challenges. In many campus contexts, the zones immediately around infrastructure and utility equipment supporting buildings create a safety hazard. When not well-maintained, campus landscaping can present a safety hazard, similar to the buildings, which makes having appropriate lighting essential.
The issue of safety from a psychological standpoint and security from a physical point of view must be approached holistically. Campuses cannot address concerns one structure at a time but must consider the entire campus to ensure safety and security for all.
Intentional spaces
The campus atmosphere should be intentional, incorporating the dynamics of each space to create a cohesive whole. The best designs give everyone a reason to be there and provide amenities, furniture, plants, etc., to encourage activities and make the space more intentional. On campuses in the past, outdoor spaces have traditionally been areas where students and staff could relax safely during downtime, but the latest trends (spurred by the COVID-19 pandemic) also cite outdoor learning environments can result in greater student success.
Intentional outdoor learning spaces deliver a variety of benefits including the most obvious — flexibility and space. Other benefits include building a strong sense of community and the enhancement of learning, participation, and inclusivity. Outdoor learning areas also provide sustainability with lower costs than traditional indoor classrooms, using fewer resources (gas, electricity, water, etc.) for conditioning and requiring less furniture. Plus, these spaces help colleges and universities present a better image and attract new students while promoting better student performance and success. With greater comfort and inclusivity, intentional outdoor learning spaces instill feelings of safety for students due to the high visibility of the space and promote better interaction between students and faculty.
Like their indoor counterparts, outdoor learning spaces must be designed with learning in mind while catering to a variety of personalities and learning styles with visual, auditory, verbal, and kinesthetic features. Doing so can mean utilizing student art, school memorabilia, flexible furnishings, trash receptacles, sanitation stations, and technology (electronics and internet).
In addition to practical elements, landscaping can play a significant role in intentional outdoor spaces and help students and staff reconnect. Campus landscaping, planned properly, can deliver maximum impact with minimal investment. Accessibility and mobility should provide easy movement throughout the campus with upgraded pathways, sufficient lighting, increased outdoor seating, understandable and friendly signage, and technology upgrades like Wi-Fi hotspots and outdoor charging stations.
An excellent example of combining infrastructure, opportunity, and intentional spaces is Discovery Hall at Central Washington University – a Geology and Physics building which includes shops and maker spaces. An opportunity arose during the design phase because the shops and maker spaces needed a sawdust collection system located outside the building which required access for maintenance and a clear perimeter for safety, but with restricted access. The sawdust collection system required additional intentionality in the surrounding landscape. Ultimately, the mechanical yard became a wall of the outdoor classroom. Rather than detailing the yard with the lowest cost materials, the design team used board form concrete to complement the style of the building, making it feel intentional while blending with the landscape and meeting the needed safety requirements.
Another project was the construction of the WSU Nursing Building which was located inside an existing railway trench. The trench offered two large concrete walls bordering either side, however, the ground floor of the building was sited deep within the trench, creating a potential safety hazard. The project team had to design egress out of the trench in case of a fire, so a stairway was incorporated. While public access to the stairway was restricted, the designers detailed the stairway to encourage access from the campus side. Also, a bridge was created crossing from the main level of the campus into the second floor of the building. Project designers identified an opportunity below the bridge to enhance the program and the intentionality of the space, so a therapeutic garden was created as a demonstration area for the curriculum, giving the space a greater purpose and enhanced function.
Creating intentional spaces, even in areas which were formerly poorly lit or had overgrown landscaping promises to provide beauty as well as safety and security. People do not want to linger in places they feel are unsafe or have been neglected. While outdoor campus spaces often appear attractive, they, like most areas, are not completely free from crime. Designing intentional spaces can alleviate many safety and security issues and provide campuses with numerous opportunities which address the physical and psychological safety considerations and deliver positive spaces for gathering, relaxing, studying, teaching, and more, now and into the future.
By Becky Barnhart, Contributing Writer
Becky Barnhart AIA, NCARB, LEED AP, is Principal with Integrus Architecture. She can be reached at [email protected].  
The post "Improving Safety and Security for Outdoor Spaces on Campus" appeared first on Building Operating & Management