It is important that all work-related near misses, or incidents that could have caused harm had the circumstances been different, as well as workplace incidents that involve injuries, illnesses, and fatalities, be investigated by facilities professionals, security professionals, and other necessary personnel.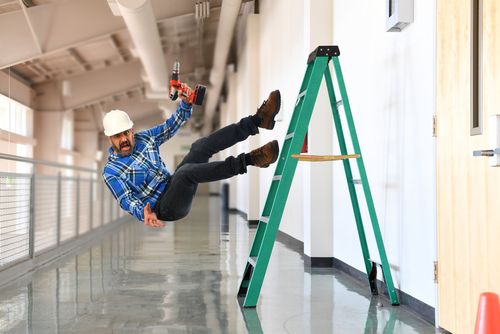 The causes of those incidents in a facility and how to prevent them were explored in a recent Facilities Management Advisor webinar titled "Best Practices for Incident Investigations," sponsored by Avetta, ABM, and TMA Systems.
The webinar featured Brandy Bossle, CEO and Principal Consultant for safety consulting firm Triangle Safety Consulting, LLC, who provided recommendations for facilities and security professionals to consider
The who, what, where, when, why, and how of investigating workplace incidents were explained:
Who
While investigations sometimes are conducted solely by the injured or ill worker's supervisor, more effective investigations often include a team of managers and workers, a safety professional, the injured worker, and any witnesses.
Incidents involving temporary workers should also be investigated by the staffing agency and the host employer.
"In cases involving a fatality, senior management personnel, engineering staff, or legal counsel, may also be involved. They might have more oversight than a minor incident," Bossle said.
What and Why
Effective incident investigations concentrate on the facts, not on assigning blame. About 74% of those watching the live webinar stated in a poll that they were involved in investigations in which the worker was blamed.
Instead, investigate whether there was a failure in a program that manages safety and health in the workplace, such as equipment, procedures, and training.
According to Bossle, "In 2020, the National Safety Council estimated that on average the cost of a medically consulted injury was $44,000 while the cost per death was $1.3 million." But improving safety and health will prevent future incidents, increase morale among workers, increase productivity, provide cost savings through lower workers' compensation insurance premiums, and increase profits.
Where and When
Investigations should begin immediately after the incident occurs to get the most accurate information from the affected employee and witnesses and should start at the scene of the incident, moving to other areas where witnesses can be interviewed both individually and separately. This is critical because people may forget details over time, which could hinder the investigation.
How
Investigators should follow these 10 steps when performing an incident investigation:
Step 1: Isolate the incident scene.
Control the situation; care for the injured or ill workers; secure the area; and isolate it with barriers, cones, or guards so investigators can do their job safely. Also, collect information before the scene is changed.
Step 2: Document all evidence, and photograph the scene.
While investigators could write notes and draw sketches and diagrams, they should instead consider taking photos and videos with cellphones. When photographing objects, use a ruler for perspective, and take close-up and far-away shots of large machines.
Step 3: Identify and interview witnesses at the scene.
Compile a witness list, and interview immediately with open-ended questions. Ask them to explain their version of what happened without interrupting, what could have prevented the incident based on the conditions leading up to it, and any clarifying questions. Take notes or video responses, and confirm accuracy.
Step 4: Collect on-scene information.
Before leaving the scene, get specifics about the worker's position, as well as the worker's injuries or illnesses, a description and timeline of events, the characteristics of equipment associated with the incident, and the characteristics of the task being performed when the incident occurred.
Step 5: Report incidents.
Contact the Occupational Safety and Health Administration (OSHA) within 8 hours to report deaths and within 24 hours to report the loss of an eye, hospitalizations, and amputations. Investigators can call or visit their local OSHA office or, better yet, report incidents on OSHA's website.
Step 6: Collect the necessary documents.
Get manuals of associated equipment, industry guidance documents, maintenance information, training records, company policies and records, and previous corrective action recommendations against the worker.
Step 7: Identify hazards.
Investigators should determine how the incident highlights hazards and shortcomings with the company's safety and health program. Learn more about identifying hazards by reading "Recommended Practices for Safety and Health Programs."
Step 8: Create an incident report.
Be sure the incident report identifies the root cause, which is a system-related reason the incident happened, and determine management, design, planning, organizational, and operational failures. The report should also identify corrective actions, including program-level improvements.
Step 9: Implement corrective actions.
Senior management should implement corrective actions as specified in the report to help prevent future incidents. Common corrective actions include training, signage, increased ventilation, and additional or improved machine guarding.
Step 10: Follow up.
There should be periodic follow-ups by investigators to ensure corrective actions are implemented and the root cause has been fixed. Doing so can help increase employee morale, productivity, and the bottom line.
Prevention
During the live webinar, 59% of respondents reported in a poll that they were involved in an incident investigation in which corrective actions did not address the root cause and the incident occurred again. Bossle believes effective incident investigations can help prevent repeat occurrences.
"Effective incident investigations are the right thing to do not only because they help employers prevent future incidents but because they help employers identify hazards in their workplace," she noted.
By conducting incident investigations thoroughly, employers can work toward safer work environments, which can provide cost savings from avoidable injuries, illnesses, and fatalities. To watch the webinar, click here.
The post Investigating Facility Safety Incidents appeared first on Facilities Management Advisor.