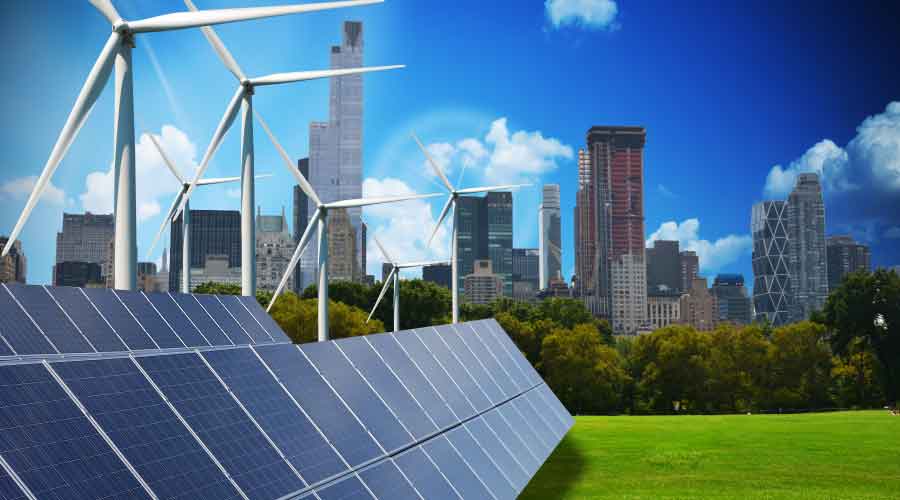 How to respond to climate change is an ever-increasing concern for facility managers. Here's how one FM has been successful in implementing renewable energy.
In scientific discussions of climate change, you often hear "feedback loops" mentioned as one of the biggest hazards for a warming planet. For instance, the hotter it gets, the more air conditioning is required to keep buildings cool, which means more electricity used and greenhouse gases emitted, which means the planet continues to warm. How do we break these loops? That's one of the things that keeps many smart facility managers up at night these days.
But feedback loops can be positive, as well. A huge recent push in the facilities industry is to create healthy buildings – buildings that actively promote the health and wellness of their occupants. One important part of this is buildings that get all or most of their electricity from renewable sources. That's because these buildings then create less carbon pollution. Less carbon pollution means less irritants in the air, resulting in lower rates of respiratory conditions, like emphysema. This results in an overall healthier population. Healthy buildings create healthy people and healthy people create healthy communities.
For a healthcare organization like Gundersen Health System, based in La Crosse, Wisconsin, creating healthy communities is part of the mission. And that is part of Corey Zarecki's mission as well.
Corey Zarecki, formerly Gundersen's head of operations and engineering, is now director of Gundersen Edge, the health system's innovation generator. He's also the long-time leader for Gundersen Envision, the health system's sustainability initiative. Basically, what all this means is that Zarecki and his team have spent more than a decade dreaming up and then operating impossibly complex and fascinating renewable energy projects to help lower the health system's carbon footprint. Gundersen Health System was the first health system in the country to be fully energy independent, achieving the first full day of energy independence in October 2014.  Zarecki was the subject of the cover story of the May 2019 issue of Building Operating Management magazine, in which many of the health system's innovative renewable energy projects are profiled.
We caught up again with Zarecki to find out what keeps him up at night as climate change is worsening, making renewable projects even more important now than ever.
FacilitiesNet: As a healthcare organization, why is it critical to focus on renewable energy, greenhouse gas reduction, and climate change mitigation? 
Zarecki: Sustainability aligns with two core values Gundersen and most health systems are driving toward. By striving to be more energy efficient and utilizing renewable energy, health systems can lower their expenses dramatically and in turn reduce the cost of providing care.  Additionally, the benefits of reduced emission tie directly to the health of not only the environment but directly to people as well. Gundersen, through Gundersen Envision and our sustainability program, maintains a consistent commitment to these values, to innovation, and, of course, to the connection to improving the health of those in our care, including the communities we serve. Gundersen achieved its first day of energy independence in October 2014, but we are not energy independent every day. Our system is constantly trying to get better all the time and be energy independent more and more as we buy or build more buildings. We also prioritize "two-sided green." We do what is right from a sustainability perspective for the environment and the health of those in our care. And, financially we do what is right for the overall system of care to improve economics and energy metrics. We must also watch the macroeconomics and adjust our strategy over time to continuously improve.
FN: The Inflation Reduction Act is still new, but how do you see this new law aiding your renewable energy efforts across all the facilities in your organization? 
Zarecki: This will be a great benefit to improve the payback of energy efficiency projects.  Additionally, the Ways and Means Committee worked directly with Gundersen's External Affairs team and with Gundersen Envision (Energy and Sustainability Program) to creatively find ways to help not-for-profit organizations receive incentives they could not have in the past.
FN: One of my favorite parts of working with you on (the May 2019 cover story) was learning about some of the more innovative projects you did. Tell me about some more of the new and innovative renewable energy projects you're working on now.
Zarecki: Gundersen is always looking to investigate new ideas and technologies that reduce the cost of healthcare and minimize harmful emissions. We are currently building a new facility for one of our regional locations that is designed to have all the energy it uses offset by onsite renewable energy. This is a downtown facility and is part of the Department of Energy Low Carbon Ready Pilot Program. The goal for this building is to truly be a zero-energy building.  We are also in the early stages of designing a microgrid for one of our campuses using renewable energy to reduce cost, minimize emissions, and provide resiliency if the utility grid is interrupted.  This project will employ multiple sources of renewable energy as well as energy storage systems.
Read the first entry in our ongoing What Keeps FMs Up At Night series with Northwestern Mutual Life Insurance Co.'s Scott Wollenzien.
Greg Zimmerman is senior contributor editor for the facility group, which includes FacilitiesNet.com and Building Operating Management magazine. He has more than 18 years' experience writing about facility issues. 
The post "Renewable Energy Helps Build Healthy Communities" appeared first on Building Operating & Management