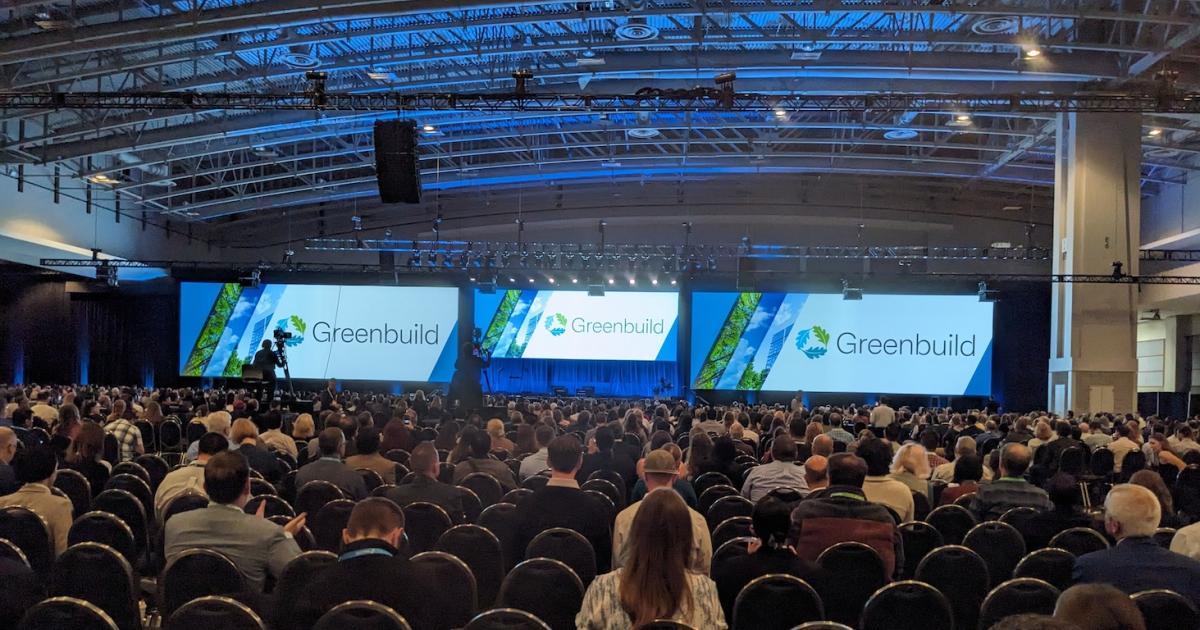 The U.S. Green Building Council (USGBC) last week held its annual Greenbuild International Conference and Expo in Washington, D.C. It is one of the largest gatherings of green building professionals with approximately 20,000 attendees, many of whom certify, design, build, own and operate structures under the Leadership in Energy and Environmental Design (LEED) program. LEED is touted by USGBC as the most widely used green building certification in the world.
The educational sessions at Greenbuild covered a broad range of issues, including social equity, resilience and ESG. The most notable trends, however, were signaled in industry announcements, during keynote remarks and at booths in the expo hall. One big theme was embodied carbon, the emissions produced by building materials during extraction, manufacturing and transport to a construction site. Another common talking point was building performance data, especially the task of measuring how much operating energy a building consumes each month. I also noticed an increase in conversations about collaboration among building industry groups and companies.
There's a heightened focus on embodied carbon
The embodied carbon of building materials accounts for about 11 percent of global carbon emissions. Concrete and steel are the two major contributors, so it was not surprising that mass timber — pitched as a lower-carbon alternative to these structural materials — had a major presence on the expo floor. (The Industrialized Wood-based Construction Conference, which promotes adoption of mass timber, co-locates with USGBC at Greenbuild.)
The focus on embodied carbon is significant because it engages building materials manufacturers more directly than ever before in conversations about decarbonization.
Lona Rerick, a principal at ZGF Architects and incoming chair of Mindful Materials, a nonprofit focused on decarbonizing building materials, said the industry needs a common language for discussing embodied carbon and interoperable frameworks to accelerate reductions at scale. To get there, the industry must recognize the diversity of the stakeholders involved and improve access to tools that help architects and developers make real-time decisions about embodied carbon when designing buildings, she said.
Two big Greenbuild-timed announcements related to embodied carbon were:
Other key developments to watch are the work being done by Mindful Materials; the AIA Materials Pledge, a voluntary commitment by architecture firms to select more environmentally sustainable building materials; and the development of ASHRAE standards for building decarbonization, including guidance for measuring embodied carbon and meeting building performance standards.
Expect a shift in how building data is managed
During Greenbuild, many building professionals talked up the need to advance best practices for measuring operational performance of buildings certified as green or sustainable. USGBC is eager to play in that space.
USGBC's implementation arm, Green Business Certification Inc. (GBCI), provides a building data management tool called ARC Skoru. The software, launched in 2016, is used to track over 30,000 projects. A new update will make it easier to use the performance data functions of ARC Skoru to track LEED-certified buildings. The hope is that organizations with newly certified LEED projects will be encouraged to measure the actual performance of those buildings on an ongoing basis.
Other software providers on the expo floor shared GBCI's vision for an ecosystem of platforms that exchange building performance data.
New services and technologies that make sense of operational metrics are emerging alongside the many hardware and software tools that exist to collect that data. Senseware, which had been focused on real-time data management services, recently rebranded as Attune to reflect its shift towards developing software that serves as an interface for facilities managers to make data-based decisions about their buildings.
"Companies want more than just the data, they want to analyze it," Attune CEO Serene Almomen told me, adding that Attune clients' interest in data monitoring typically starts after they install energy efficiency or indoor air quality systems. Facilities managers can use data to learn if the upgrades they installed are actually working as designed, Almomen said.
Collaboration is the way forward
I heard the words partnership and collaboration many times during my time at Greenbuild, starting with an event hosted by Clark Construction. Onstage were leaders in architecture, construction and development celebrating their success in working together on cutting-edge projects. The next night, Armstrong World Industries hosted an event where executives likewise spoke about the company's desire to grow its network of partners. I sat down with Mark Hershey, senior vice president of the Americas at Armstrong, to learn more about the company's approach to collaboration.
Armstrong is best known as a manufacturer of commercial ceiling tiles, but in 2016, the company restructured and adopted this focus: "Experience Above All." As part of that vision, Armstrong considers not just its products but the spaces they help create, Hershey said. Ceiling tiles may seem a small part of defining that space until you realize most utilities are run above and through them, from air conditioning ducts to lighting and sprinkler systems, he said.
What I find most inspiring about Armstrong's approach is its desire to be an open innovation company. "We want more friends," Hershey said. For example, Armstrong already has a partnership with Irving Tissue to take and reuse Irving's paper waste as an input for manufacturing its ceiling tiles. Hershey said the company aspires to set up hundreds more similar relationships. This is exactly the attitude companies need to accelerate progress on sustainable buildings.
The post "These themes are the talk of green building professionals" appeared first on Green Biz