Property owners using fossil fuels should prepare for a rude awakening. By 2050, Canada's legislated goal is to reduce our greenhouse gas (GHG) emissions to net-zero, a prospect it concedes is an ambitious but necessary measure to control climate change and sustain a livable future.
The next 25 years will be critical. According to Canada's Green Building Strategy, the country's built environment is responsible for 13% of its GHG emissions. The Canadian Net-Zero Emissions Accountability Act became law on June 29, 2021, and the building industry is a primary focus in reaching the 2050 net-zero goals and initiatives.
It begins with how new buildings are constructed, reducing emissions from the cement manufacturing industry through the Net-Zero Carbon Concrete roadmap, and the extensive and accelerated retrofit of existing buildings to make them as energy-efficient as possible.
According to the Department of Natural Resources, 'Over 78% of operational building emissions come from space and water heating, the majority of which is due to equipment that runs on fossil fuels.'
Decarbonization of these systems is something property owners should be thinking about sooner rather than later, says Jeff Livingstone, Project Principal and Mechanical Practice Leader with Pretium Engineering. "Mechanical equipment installed today will still be in operation at the time when Government recommendations for net-zero building operation will be in effect. Ideally, at that time, we will not be relying on gas for heating in our buildings," he says. "If we are aiming to be at net-zero for greenhouse gas emissions, then all gas-fired devices must be reviewed. The plan is to look at transitioning from gas to another energy form and generally, that is electricity."
That's where Pretium Engineering comes in. Although the targets don't come into play until 2040, Livingstone, who has completed Building Condition Audits and Electrification Studies for clients such as the University of Waterloo and Dream Properties, stresses that this is only a few years away and building owners should be considering the new targets when planning for replacements of existing equipment.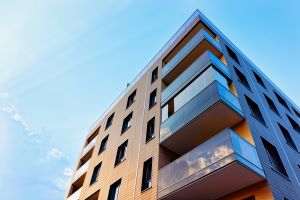 Livingstone advises that a switch to electric heat pumps will be at the heart of many building retrofits and will require an integrated approach for which Pretium Engineering is well-positioned to provide the necessary consulting services.
Based on historical data released by the Ontario Energy Board (OEB) and Enbridge Gas, electricity costs are estimated to rise by approximately 20% by 2030 while natural gas prices are expected to rise by approximately 36%. These cost increases coupled with the ability of electric heat pump systems to produce more heat for a given input amount (Coefficient of Performance (COP) of 2.5 or greater) means that heat pumps will become more economical in the future as relative operating costs are decreasing when compared with natural gas.
Livingstone stresses there is no one-size-fits-all solution to carbon reduction in buildings. "Equipment and building elements are all interrelated," he says, "so you can't necessarily change an aging boiler directly to a heat pump because hydronic systems in the building may not work as intended due to changes in system operating temperatures. We want our clients to understand that they need to look at the building holistically, as natural gas-fired equipment installed today will be in place at a time when it may no longer be compliant with the federal targets, and possibly mandates."
Building envelope components are critical to the successful and cost-effective implementation of building carbon reduction strategies. An integrated approach allows for better use of resources and investment dollars for your assets, advises Livingstone. "If we take an existing gas boiler out of a building today, we have to design for a large and potentially oversized heat pump," he says. "But if we can phase it in such a way that we upgrade windows to provide better insulation and air tightness, a smaller heat pump system can be used. The benefits to "right-sizing" equipment include reduced electrical demand, which is easier on the electrical grid for the province, and reducing or eliminating the need for building electrical upgrades."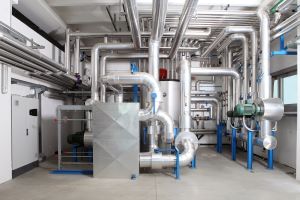 Although we don't yet know what potential mandates or enforcement will look like in years and decades to come, according to the Green Buildings Canada Strategy, energy benchmarking will be used on all buildings to 'help drive data transparency on energy costs and incentivize building investment decisions.'
This information will be made publicly available, a move which according to Natural Resources Canada, for residential buildings 'could dramatically transform our real estate market.'
The Federal Government has created a roadmap for common building sectors which outlines the changes that will be required to meet national net-zero targets. These roadmaps do not take into account building lifecycle and budgeting limitations, which typically drive investment decisions for building owners.
With this in mind, Pretium Engineering is seeing some clients tackle the problem head-on. Combined with retrofits of windows, roofing, and lighting, building owners are including carbon reduction as a major consideration at their next building condition assessment. The Pretium Engineering team urges building owners to plan for integrated building upgrades, before replacing expensive mechanical systems with products that may not be suitable for future net-zero initiatives.
"If you are spending money on your building, take a long-range approach," says Project Principal and Leader of Pretium's Energy and Carbon Reduction Team, Jennifer Hogan. "If your building is using more energy or carbon than it's supposed to be, you will be paying for it, as the cost for energy and carbon is projected to continue to rise. On the other side, there are ever-evolving incentives to complete projects that will reduce your energy and carbon consumption. Start the conversation now and find out what is out there."
Each jurisdiction across Canada will be responsible for working with low-carbon solutions. The City of Vancouver made headway in 2022 by passing the Vancouver Building By-Law requiring zero emissions equipment for space and hot water heating in new builds. By 2025, Vancouver will require all replacement heating and hot water systems to have net-zero emissions. The City of Toronto's strategy for net-zero emissions calls for the decarbonization of all privately-owned homes and buildings by 2040.
The zero-emissions building mandate is combined with the need for more climate-resilient buildings to counteract the imposing effects of climate warming such as increases in temperature and weather-related events.
The race to achieve zero-emissions buildings is on, and Pretium Engineering is at the forefront, providing integrated consulting solutions for Clients. Recognizing the urgent need for restructuring HVAC systems, Pretium Engineering now holds the advantage of having an in-house mechanical team.
"At Pretium Engineering, our teams work in mechanical engineering, building envelope, roofing, and energy audits. Each of these building elements is called out specifically in the Federal decarbonization roadmaps," says Livingstone. "We are perfectly positioned to provide complete consulting and engineering services needed to meet net-zero targets."
Jeff Livingstone, P.Eng., LEED® AP is Project Principal and Mechanical Practice Leader for Pretium Engineering. Jennifer Hogan is a Project Principal and the leader of the Energy and Carbon Reduction team. Pretium Engineering has offices in Toronto, Newmarket, Burlington, Kitchener/Waterloo, with satellite offices in Windsor and Ottawa. Connect at www.pretiumengineering.com.
The post Too Much Gas? You're Not Ready for the Future appeared first on REMINET.