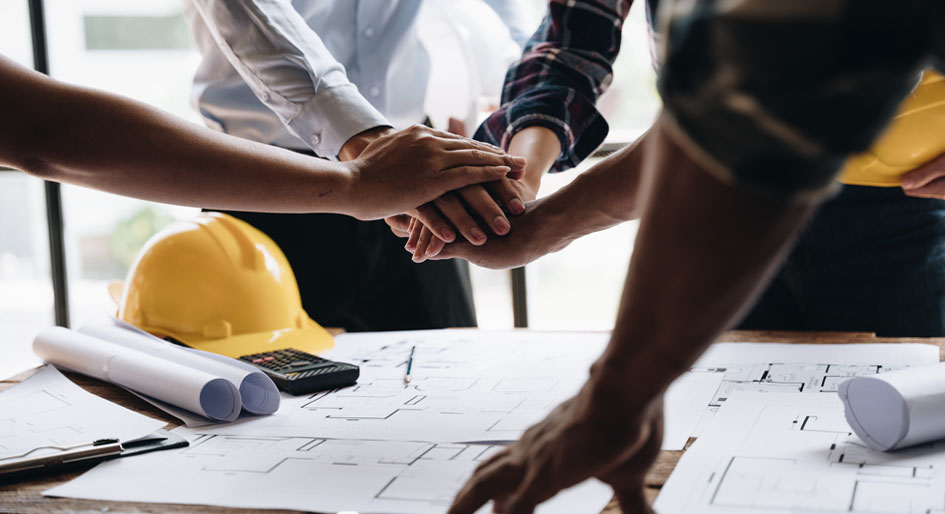 Collaborative construction contracts are not new to Canada, but the global pandemic, increased climatic events, high demand for experienced contractors and labour, supply chain disruption, inflation, and a potential recession have resulted in a significant increase in their popularity over the past few years.
Collaborative contracts are premised upon the early engagement of participants before the details of the project have been finalized. In the right circumstances, these models can provide the benefit of a collaborative environment, provide insight about the project from various participants, and allocate risk in creative ways. However, collaborative contracting is not a panacea and, as with anything, there are tradeoffs that participants need to be aware of when considering these models.  Additionally, participants can obtain some or all of the benefits of collaborative contracts by adapting traditional construction models.
This article will highlight four of the more common collaborative contracts in Canada and challenges associated with these models.
Common Types of Collaborative Contracts
Early Contractor Involvement /Construction Manager at Risk/Construction Consultant General Contractor/Design Assist
Known under various different names, the key characteristic of this model is the engagement of the contractor on a consulting basis to provide constructability and procurement services during design development. As the project details are developed, the parties negotiate the cost and schedule for the project. If agreed, the contractor then assumes a more traditional contractor role under a guaranteed maximum price or a fixed price.
Progressive Design-Build (PDB)
In a progressive design-build contract, the owner engages the design-builder before the project requirements have been finalized. During the first phase of PDB, the design-builder works with the owner to advance the design, provide cost and schedule estimates and procurement services. Once the design is advanced to an acceptable point, the design-builder and owner move to a second phase where they (hopefully) agree to a fixed price or guaranteed maximum price to complete the project on more traditional commercial terms.
Integrated Project Delivery (IPD)
Integrated project delivery involves all major project participants (such as the owner, the contractor, and the architect/engineer) entering into a multi-party contract at an early stage of the project. The IPD contract sets out how collaborative decision-making and management will work from the validation phase through to the warranty phase of the project. During the project, the IPD parties are paid their actual costs with no (or little) profit while performing their obligations. The schedule, target price, and other goals for the project are agreed to by all IPD parties and, subject to permitted adjustments, the parties share in a profit pool tied to the project metrics if those goals are met. A key feature of IPD contracts is a waiver or limitation of project claims between IPD parties, subject to certain exceptions.
Alliance
There are many versions of "alliance" contracts.  Some of them look like IPD, some of them involve early contractor involvement, and there are other similar approaches.  It is difficult to really talk about alliance contracts given the disparity in approaches, but this is actually the key caution, namely that it is crucial to understand what the contract is doing before executing it.
Challenges with Collaborative Contracts
Collaborative contracts have admirable goals; however, there are certain challenges that participants should consider and manage prior to determining whether they are appropriate for a particular project. These challenges include:
No Guarantee of Price or Schedule: The early engagement of project participants means that little price or schedule certainty is provided at contract signing and there is no guarantee that the parties will eventually agree to such terms. This reality could lead to long project delays, an inability to agree to a fixed price or guaranteed maximum price, or inappropriate bargaining pressure.
Procurements are Costly and Collaboration is Not Free: Procurements of collaborative contracts can be costly and time consuming. The cost to collaborate can be significant and it may not make sense for all projects.
Attitude Change: Collaborative contracts require collaborative attitudes and significant time commitments and resources from sophisticated participants. Without it, participants often shift back to traditional roles sacrificing some of the benefits under these models.
Confidentiality of Commercial Terms: Due to certain confidential and propriety concerns, there are very few public examples of what is and is not "market" for collaborative contracts. There are significant differences between what parties to these agreements believe the commercial terms should be.
Intellectual Property: There are numerous concerns about the ownership, responsibility, and liability for intellectual property created under these collaborative contracts that result in commercial terms that may not be ideal to all parties involved. This includes what happens if an agreement cannot be reached.
Conclusion
Collaborative contracts aren't new, but market conditions have resulted in an increase in their adoption in Canada. There are many benefits to the early engagement of project participants and collaborative approaches to project delivery, but these models do present challenges. Those considering these contracts should be aware of their key differences to traditional delivery models. With knowledgeable industry participants, we are confident that these challenges can be managed to assist in the success of collaborative contracts in Canada.
If you have any further questions about collaborative contracts or construction contracts in general, please contact Bill Woodhead ([email protected]) or Matthew Quintieri ([email protected]). Bill is partner and Matthew is senior associate at Borden Ladner Gervais LLP.
The post Understanding collaborative contracts appeared first on REMINET.