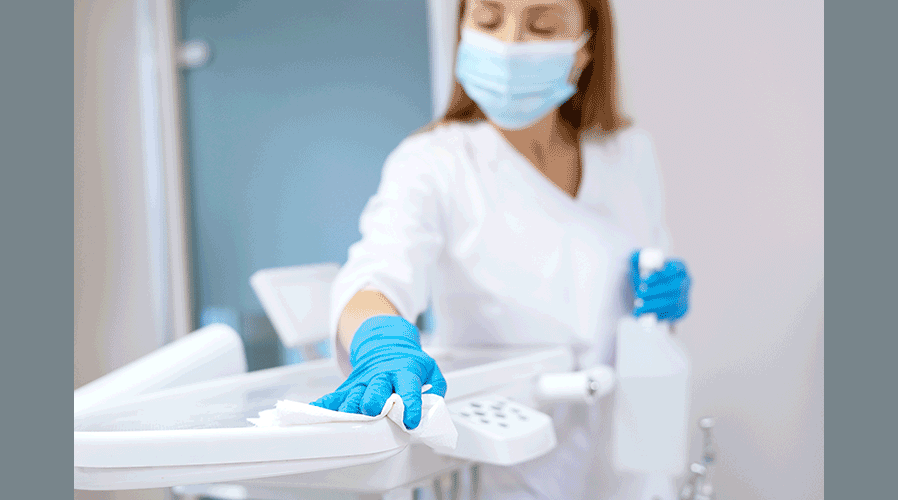 Overuse of disinfectants cause healthcare workers to be unnecessarily exposed to substances that could cause or aggravate asthma or dermatitis.
Workers in cleaning occupations frequently do not report their work-related illnesses because of real or perceived discouragement by employers, job insecurity and marginalization of this occupational category. Failing to recognize the hazards of disinfectants, along with the blanket advice to continue to disinfect environmental surfaces, leads to overuse of and overexposure of hospital staff to these antimicrobial pesticides.
Most healthcare-acquired infections are associated with venous or urinary catheters, ventilator use, antibiotic therapy, inadequate hand hygiene, length of hospital stay, surgical site infection and antibiotic prescriptions.
Since COVID-19 began in early 2020, hospitals have encouraged the indiscriminate use of disinfectants on environmental surfaces. This practice also might lead to undertreating surfaces that do pose a real risk of microbe transfer and subsequent disease and that need targeted disinfectant application.
The need for targeted cleaning and disinfection are greater on surfaces and in situations where these risks exist, and research has shown such intervention is effective. The overuse of disinfectants causes healthcare workers to be unnecessarily exposed to substances that could cause or aggravate asthma or dermatitis.
The National Institute for Occupational Safety and Health has documented elevated asthma and chronic obstructive pulmonary disease proportionate to mortality rates in the healthcare industry. Over 40 articles have documented the association between asthma and cleaning products, and specifically disinfectants, used in hospitals. This research includes antigen challenge testing with specific disinfectants, the gold standard for showing causal relationship for chemical-induced asthma.
Six disinfectant families used in hospitals meet the criteria for the Association of Occupational and Environmental Clinics for substances rated as causing asthma. The cases of work-related asthma could be caused by work with or near bleach, quats and other chlorine-based products, peracetic acid, phenolics and hydrogen peroxide.
Washing or scrubbing a surface physically removes soil and organic material, such as blood and body fluids, and it removes many germs. The guiding principle is always to remove germs rather than kill them and then, when necessary, use the smallest amount of the mildest chemical or other product that will do the job because stronger often means more toxic to workers or those nearby.
A disinfectant kills microbes. But depending on the pathogen, preventing the microbes from getting a foothold by removing food and moisture — two essentials for sustaining living organisms — in the long-term might be as effective as a chemical disinfectant.
Because disinfectants are classified as pesticides, these products should be used in strict accordance with product labels. Be concerned and informed about the oral and dermal toxicity of all chemicals used in your facility. Check safety data sheets, which give acute toxicity and technical information about a product. Besides toxicity, workers also must be aware of the corrosivity of cleaning chemicals and disinfectants that could damage finishes and patient care equipment.
The need for antimicrobial stewardship and comprehensive surveillance and prevention of work-related illnesses remain important challenges for managers and their staffs.
By J. Darrell Hicks, Contributing Writer
J. Darrel Hicks, BA, MESRE, CHESP, Certificate of Mastery in Infection Prevention, is the past president of the Healthcare Surfaces Institute. Hicks is nationally recognized as a subject matter expert in infection prevention and control as it relates to cleaning. He is the owner and principal of Safe, Clean and Disinfected. His enterprise specializes in B2B consulting, webinar presentations, seminars and facility consulting services related to cleaning and disinfection. He can be reached at [email protected], or learn more at www.darrelhicks.com. 
The post "Wrong Disinfectant Can Lead to Occupational Health Risks" appeared first on Healthcare Facilities Today